macrumors 68000
Original poster
Should Apple offer a wired Keyboard option again?
Some of you may remember that before the current Keyboard version there was a bluetooth Keyboard that had another generation preceding it, that was available as a wired option, too. There was a full lenght version, that is today available from several third manufacturers as similar clones (HP,
Logitech
, MS-Tech) with not so strict laylout or very close (by Matias) with apple layout.
There was also a short version (sort of TKL), for which there are no substitutes today. (You can find some with Windows Layout for the US and UK market, though, from China that kinda break when you touch it
They are also missing the USB-hubs at the sides.)
Do you miss it?
Do you remember?
Would you buy one, if there was the option by Apple (or a good version from a third party manufacturer with Mac-layout)?
Would you find it useless, because you are all bluetooth anyway?
Here is a picture of the last original Apple wired keyboard, a short Version, for the German market. (Edit: Wikipedia says the wired short version A1242 was only available with the iMac)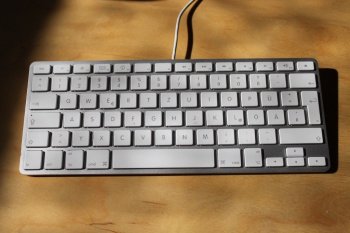 USB hub on both sides:

I find Apple should offer a wired option, again (both versions, full and short).
Not only for those few old school people that are "too lazy" to go with the new technology, as some might say in a harsh way. (I actually think there are a lot who would buy one.). More important is the environmental aspect that Apple could advertise. You do not need batteries. For me a big plus over Blutooth stuff. You can guess by now, that I am using wired stuff
Also, you got 2 USB hubs, to plug the mouse into. I rarely used it for USB-flash thumb drives (sticks as we call them here), because I am so old, that I know the keyboards with USB hub from the iMac G3 era, that were unreliable with USB flash media. Of course today in a new version you would expect USB3 ports, which probably increases costs(?), but I would even be happy with USB2, so that I can connect a mouse to it at least. Well...
Last edited: