Administrator/Editor
Original poster
Staff member
I can't recall where I found out about this case at first (it might have been
this
massive accessories thread that was started in early February) or maybe it was from someone on Twitter. At any rate, I ordered it on April 2 and it just arrived today.
These cases mimic the Moleskine notebooks and I wanted it because I thought it would be good "camouflage" for my iPad in public. Now that I have the case, it definitely succeeds at this in my book and I'm pleased with it so far.
The case has a hard cardboard cover and the exterior is black and interior is red. Aside from the red interior (the Moleskine notebooks I've had have had off-white interiors), it looks just like a Moleskine notebook. The iPad sits in a bamboo frame that's meant to be light yet sturdy. There are 4 foam inserts in the corner that hold the iPad in place.
My iPad fits into the case perfectly and all of the ports are accessible thanks to cut-outs in the bamboo frame. The case feels sturdy and I still think it was a little expensive at $49.95 though it is handmade in the U.S. and I had a 20% off coupon (which has expired and I don't know of any others to share, unfortunately), so I'm not displeased with the value overall.
Here are pictures of the case from the Dodocase Facebook page: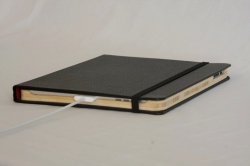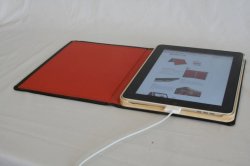 You can use the case as a stand, though in landscape orientation, it must be placed on a surface that provides enough friction so that the edge of the front cover won't slide out by itself. Standing it up in portrait mode is a little easier since you can just prop it up like an open book. Folding the cover over backward puts the iPad at a bit of an angle so that it's easier to type on while on your lap or a desk.
So far, my only durability concern has to do with the foam bits in the corners. I worry that they will compress over time and no longer hold the iPad in place well enough. However, I can't predict if/when that will happen since I lack expertise in foam longevity and durability.
(I have a first impressions video of this case up on my blog).