macrumors newbie
Original poster
So, I recently purchased a second 980Ti hybrid to put in my mac pro 5,1. I have been running a single 980Ti for about a year now and I found a good deal on a second one so I picked it up to put in my system. I chose to go this route over purchasing a single 1080TI primarily for the cost. This option is much cheaper and offers similar results. The only downside is that this is far from plug and play and it required quite a bit of work to get everything working correctly.
[doublepost=1554608558][/doublepost]After a lot of research, I decided to go with a second PSU to power the graphics rather than tapping off the main PSU. I did this for two reasons: I did not want to overload the main PSU and after looking at the specs for it I realized that it is very inefficient, so adding an efficient PSU for the graphics card should reduce the overall heat output of the computer.
For the PSU I chose a 750w 80+ Platinum power supply because it seemed to be a very high-end PSU and it was only around $17. ebay link -
https://www.ebay.com/itm/656363-B21...ply-660183-001-643955-201-Pulled/223222559512
I also had to purchase some cables to run to the graphics cards, and after hours of searching on ebay I ran across a guy selling nice looking braided cables for a great price so I purchased 4. ebay link -
https://www.ebay.com/itm/pci-e-Power-Cable-Type-3-Individually-Sleeved/323597481385
Aside from these two items I only had to purchase some connectors to make the power supply removal (this is completely optional), and some screws to mount the power supply. I purchased these from Home Depot because I needed them quick.
Everything I purchased totaled about $35 which is much better than any drive bay power supply I found. It is also much better quality.
[doublepost=1554608857][/doublepost]To begin I found an old computer cable and cut the end off. I then remove the stock PSU from the computer and soldered the stripped end to the 120v side of the PSU. After I did this I realized it was going to be tricky to route the cable inside the power supply without pinching it, but it can be done.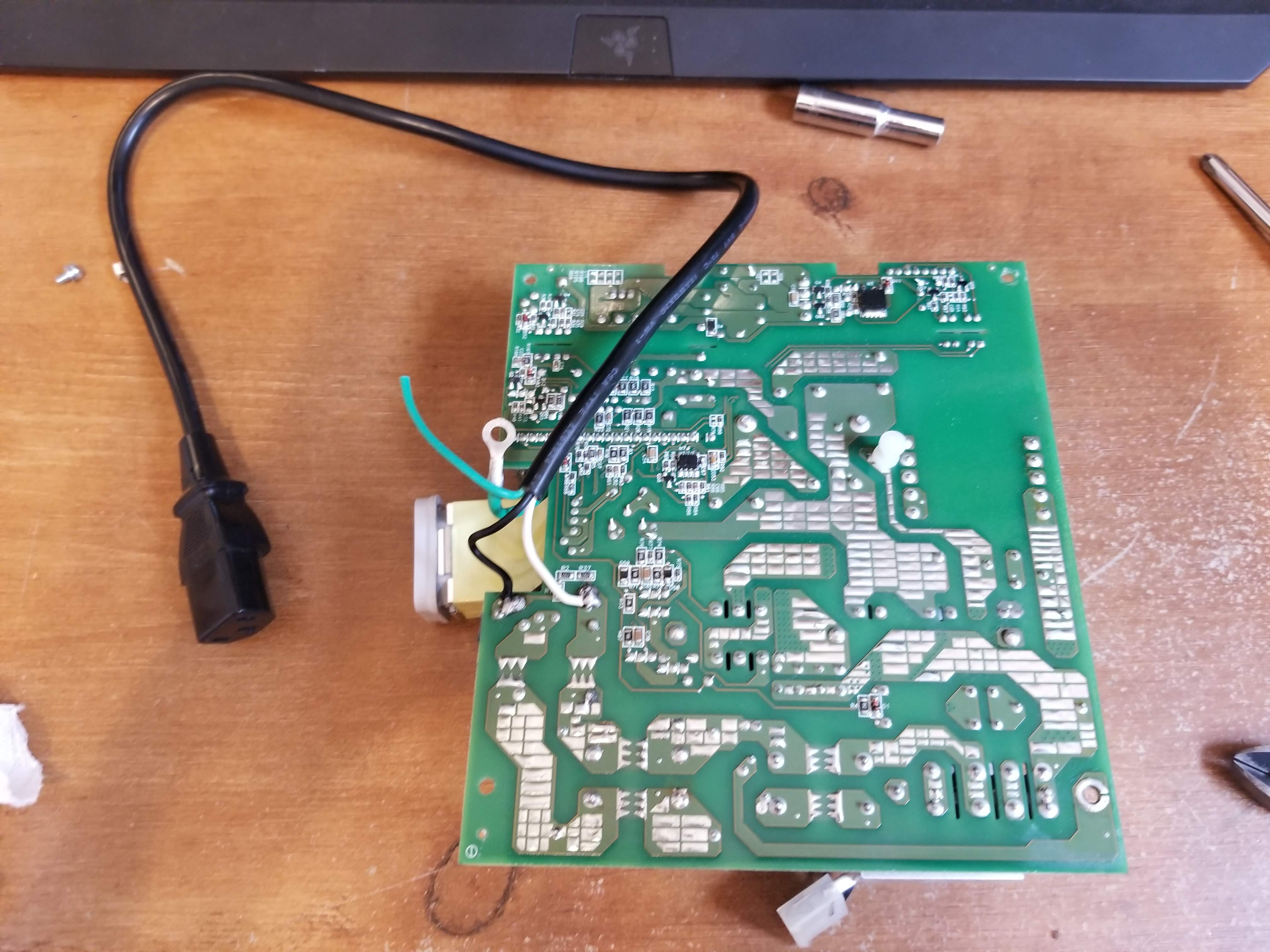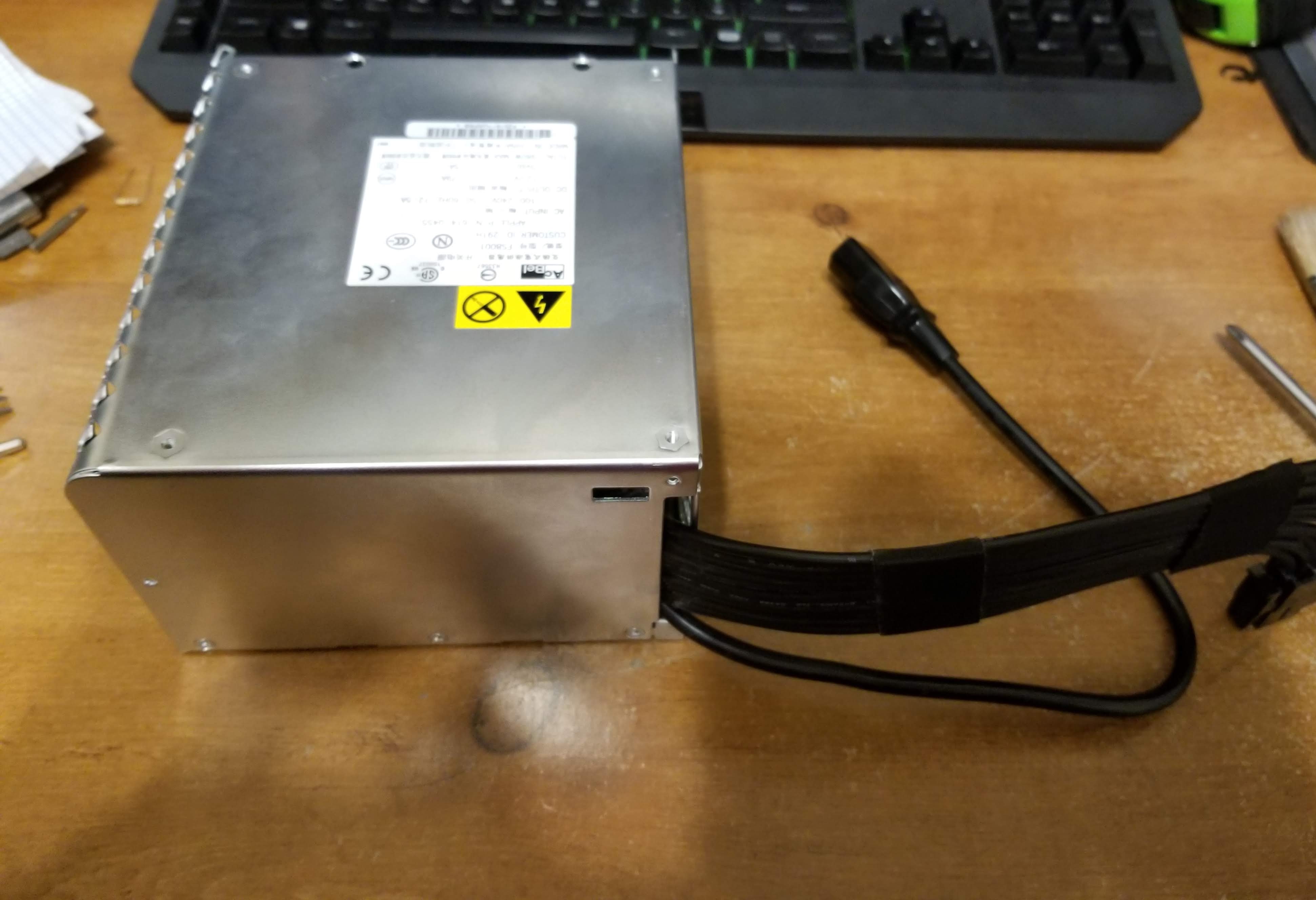 [doublepost=1554609154][/doublepost]I then began work on the HP PSU. From my research, I thought I had to jump two pins with a 500-ohm resistor, but after a lot of trial and error, I realized that on this PSU the pins only had to be shorter out to make it work. To power on the PSU I decided to get a sata power adapter and attach to 12v outputs from it to a relay that would short out the pins on the secondary PSU when I turned the computer on. I tested this and it seemed to work well.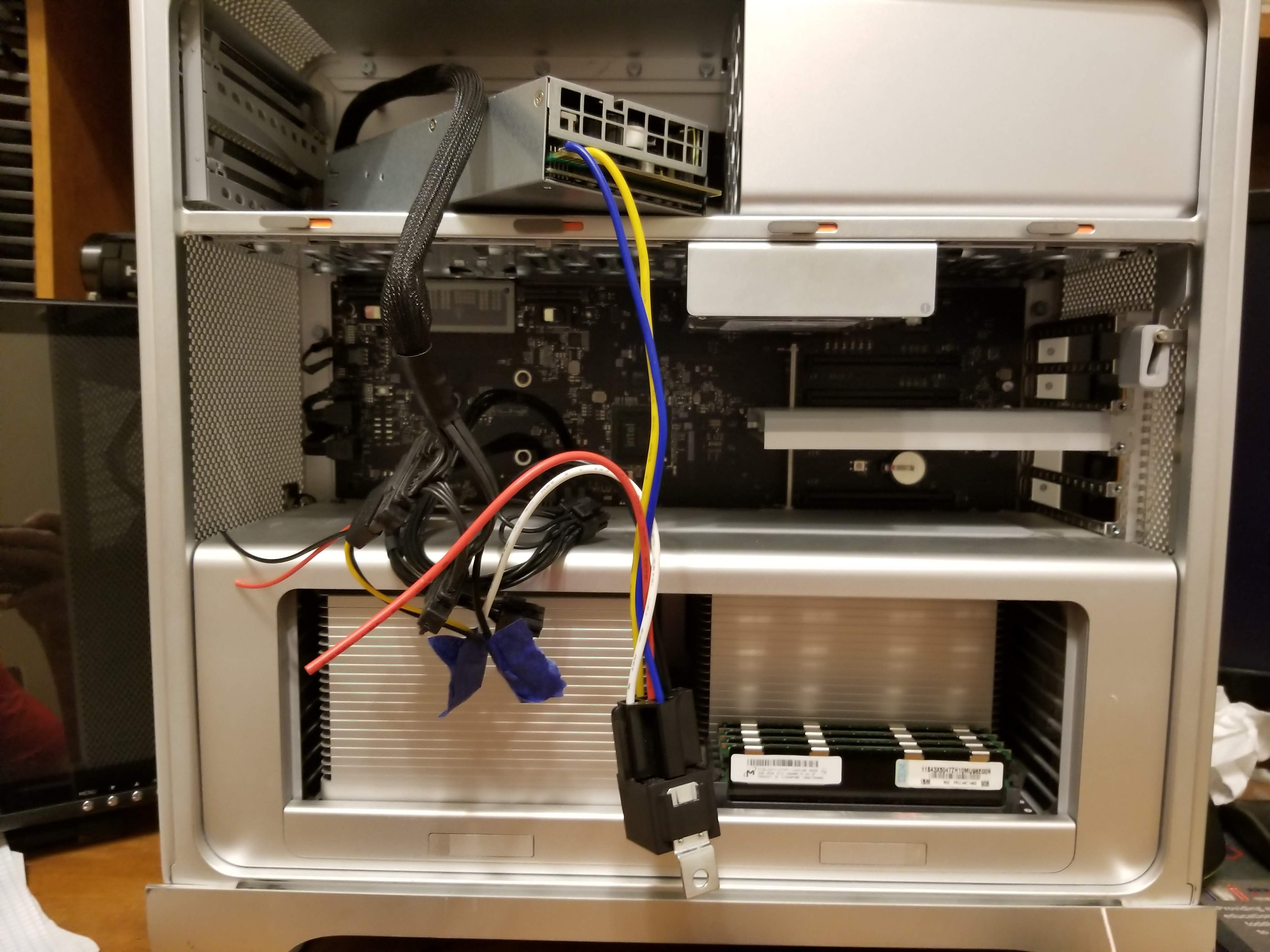 Last edited: