macrumors newbie
Original poster
Hi all,
History:
bought a new Macbook last week, installed everything I needed including bootcamp and a XP partition. No problems, but I found that 80gb won't be sufficiant for me to work, so I bought a new 160gb drive, put this in an usb closeaure, formated it mac journal extended, used superduper and backed up the entire mac partition. Put the new drive into the mac and booted, works like a dream. But, of course, it didn't clone the windows partition, so I installed boot camp from scratch, and tried to run the assistent.
Problem:
I keep getting an error while running bootcamp assistent.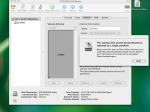 As you can see in the background i've opened the disk utility to check if the format is correct....and it is.
Any suggestions?
Ken