macrumors 6502
Original poster
The save location dialog for the media library keeps popping up on its own all the time, basically whenever I do edits in the timeline or when switching back to Final Cut Pro from another application. (Any edits to the library or projects get saved howsoever and FCPX seems to work normally besides this very annoying dialog pop up behavior.)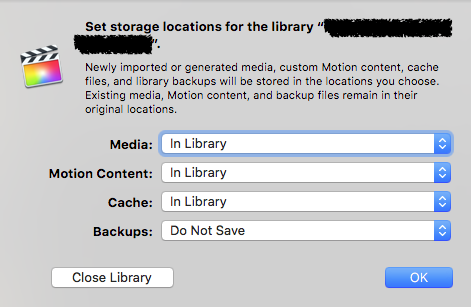 ​
I am running the latest version of FCPX 10.4.6 (on High Sierra 10.13.6), though this has happened before in 10.4.3 and 10.4.4 for several months now. It's not happening on another machine of mine, also it seems to only happen in my main user account not in freshly created one.
Does this sound familiar to anyone?
Maybe some third party software running in the background and known to cause such issue? Any specific hint may be helpful!
Last edited: