macrumors 6502
Original poster
My wife and I are avid garage sale/estate sale shoppers. If it's Saturday morning, we're probably poking through someone's old junk in their front yard. Well, in the U.S., the Labor Day weekend (a couple of weeks ago) is the height of the "season", if you could call it that. In lots of places, entire small towns will hold citywide sales, some are even organized around particular highway routes stretching hundreds of miles across several state lines. So, there just wasn't any way we were going to miss that.
I enjoy these affairs and frequently come up with cool stuff. Much of our home has been furnished and much of my garage and tool shed have been stocked in this way. But when it comes to tech-related stuff, I rarely score because, well, you know I'm here on this board so you know the kinds of things I'm into. Like many of you, my tech-related interests are narrow and arcane; which is why I'm usually shocked when I find stuff like this: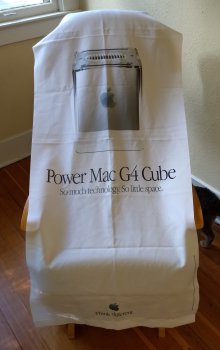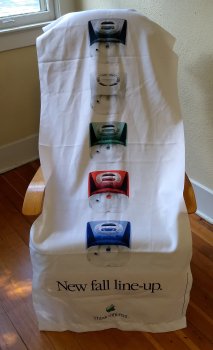 They're printed cloth banners, approximately 6-feet by 2-feet. I'm pretty sure they came from a CompUSA or similar retail electronics establishment with an Apple section. Given the models depicted these would have been current in mid-2000, about a year prior to the first opening of Apple's own retail stores. I remember well going into CompUSA and drooling over these machines. Windows 98 was showing me its ugly side back then, and I desperately wanted to "think different" but couldn't afford to.
I don't have a suitable place to hang these right now. After our next move (probably a couple of years from now) I'm going to be decorating my PowerPC cave with these beauties, by which time I plan to have acquired a few more examples of what they're advertising. You can bet I'll be putting up some more photos then!