macrumors 68020
Original poster
megazoomer v0.6.1 - Full Screen mode for Panther, Tiger, Leopard & (32-bit) Snow Leopard.
For the past decade I've used a SIMBL plugin named
megazoomer
to allow for Full Screen mode on my PowerPC Macs. Last week I decided to fork the (9-years dormant) open source project on github to bring the features up to date with more recent macOS implementations.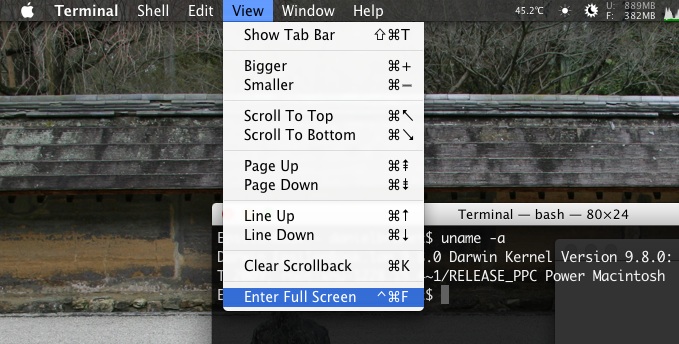 New features:
1. Moved "Mega Zoom" command to
View
menu and renamed to "Enter Full Screen" / "Exit Full Screen".
(Previously in Window menu).​
2. Changed keyboard shortcut to
Ctrl-Cmd-F
. This keyboard shortcut will automatically change if it is not unique in the current app to prevent overriding of existing shortcuts.
(Previously Cmd-Enter).
​
3. Added application bundle identifier exclusion option for blacklisting apps.
(Prevents megazoomer from loading in user-specified app bundles in case of incompatibility or preference).​
4. Fixed previous incompatibility with
Xcode, Property List Editor
and other apps which used the
Objective-C 2.0 Garbage Collection (Required)
build option introduced in 10.5.
Download and Install
megazoomer v0.6.1
download and installation instructions at
https://github.com/AphoticD/megazoomer#megazoomer
-AphoticD
Last edited: