macrumors 68000
Original poster
I've just added a few comments about the G3 'Clamshell' on another thread in this forum, so thought I would follow up with a few new recent photos - especially as my trusty Lumix DMC-T25 camera appears to be on it's last legs and has been playing up, so wanted to get the most out of it before it finally expires.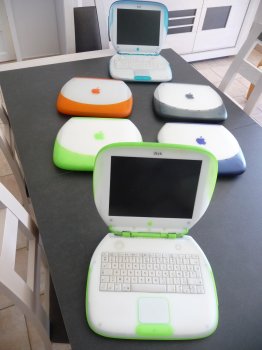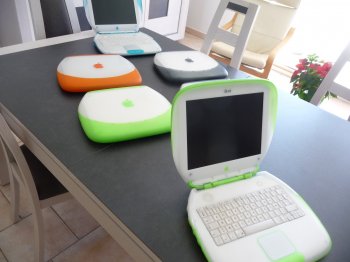 As Macs go, running a close 2nd to my most preferred iMac G4's, it's taken me several years to put together this collection of iBooks.
As mentioned in
THIS
link, these Clamshells are still a joy to use today (internet use apart). Both of the KeyLime shown are the very rare SE Firewire 466MHz model, which - even with AZERTY keyboards took me ages to locate. Although it's been well recorded that Clamshell iBooks are fairly difficult to work on, the keyboards are easily interchangeable, and I've retained a spare QWERTY keyboard just in case I ever may want to dispose of either 366 or 466MHz models.
Both the KeyLime have maxed-out RAM, but apart from that I decided to keep these original - unlike another 466MHz Indigo (not shown) in which I installed an mSata SSD. That performs rather well too for a 'golden-oldie'.