macrumors regular
Original poster
My PowerMac G5 started out as a bit of a joke bid on eBay for $20, description was for "not working - no hard drive." Much to my surprise, I actually won it. I went down with my car and picked it up.
Now, asides from being a little dusty it looked okay. I put in a spare HDD and hooked up a monitor, etc. Much to my surprise (again) it posted, but I would get absolutely nothing on the display.
Turned out to be a dead Graphics Card. $23.50 later and I had an FX5200 from another G5, $10 on eBay found an original G5 install/restore disc for OSX 10.2.7 $12.50 got me a new PRAM battery.
So it turned that that I got a 2003 Mac Pro Dual 2.0GHz PowerPC G5 CPUs. It came with 4.5GB of RAM.
There was a long saga trying to get OX 10.4.11 to install, but long story short, it turns out that the old superdrive couldn't read discs burned at high speed, so I just had to burn the dmgs at the lowest speed on my other Mac.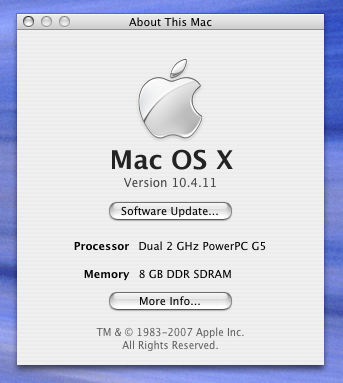 OSX 10.4.11 with all updates installed (and Flash removed) I also bought 8x 1GB RAM sticks for a total of about $48 incl. shipping. I figured that all-matching new RAM would probably be better than the mixed collection of RAM that this G5 had acquired over time. I have even set it up with an era-appropriate Mac A1048 Keyboard and ProMouse (both of which were bundled with my Mac Pro, but I had replaced with bluetooth models).
I then discovered that particular G5 I had was the most powerful model released in 2003. Touted by Steve Jobs as the "world's fastest personal computer" at the time. But I had put the FX5200 card in. That belonged in the two single-processor models. So a bit of a hunt on eBay brought me for about $40 an original ATi Radeon 9600 card with dual DVI outputs and 128MB of RAM.
The FX5200 did seem to manage just fine, but I decided it would nicer having the original card.
I have also added Audacity, VLC Player, LibreOffice and a bunch of classic OS9 games and i really like this computer. It hasn't been anywhere near the world's fastest personal computer in a long time. For a machine that is 13 years old, it still runs nicely. In fact, it boots in about 42 seconds, which is starting to give much younger and more powerful computers (which have SSDs) a run for their money. My early 2009 MacBook boots off an SSD in 36-38 seconds. My 2011 MacBookPro boots in about 22-25 second, again off an SSD.
The computer is not a "daily driver" and the 27" Phillips display is only borrowed from my much more powerful, though not that much younger 2008 Mac Pro.
So why did I buy the G5 in the first place? Well, it was a joke bid on eBay, but I did happen to like the case design. In the back of my mind, I had decided that if the G5 was dead, I could always gut it for a Hackintosh or ATX case conversion. But it all worked, save for the graphics card, and it is now effectively a back-up machine which also carries alot of classic Mac games.
The only thing I need to make this a genuine retro-gaming machine would be to acquire an original Apple Cinema Display, though I would go for the models with the Aluminium stand and bezel rather than the white picture-frame models. At the very least I would go for the 23" 1920x1200 display, though if a 30" came up at the right price, I would jump at it (and probably need yet another graphics card!)