macrumors 68040
Original poster
For the past few weeks I've been getting in a workout in the morning before going into work. I fit in the minimum 30 minutes to fill in the "workout ring", but I generally try to go for a nice round 2 miles when time permits, which is generally close to 45 minutes.
However, almost every day this week I've noticed that the "Workout" activity ring lags behind the actual workout time by minutes. For instance, today I clocked a 41 minute workout via the watch's Workout app, but only 33 "Exercise Minutes" were registered. I thought it was really strange this morning when I was past 40 minutes in the workout app but the notification for my exercise ring being closed never pinged.
Similar discrepancies have taken place on Tuesday and Wednesday as well, with Tuesday being the first occurrence of this issue. Here's workouts compared to exercise minutes for Tuesday, Wednesday, and Thursday of this week.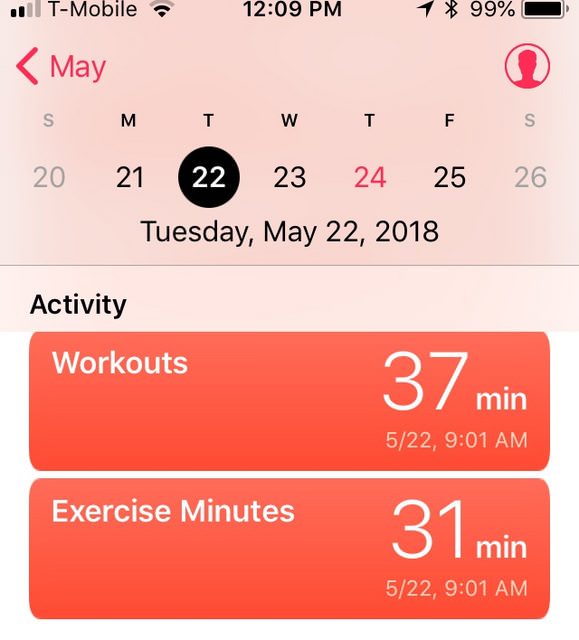 I initially thought that my pace had somehow gotten slower, but I seem to be hitting the usual 20 to 22 minute mile every day, so that didn't seem to be the problem. I looked at last week's data to compare and the workout minutes and exercise minutes are practically identical, with maybe a one or two minute discrepancy which can be explained due to waiting at an intersection for a car to pass or maybe ending the workout a minute or two late.
Here's last week's data for Tuesday, Wednesday, and Thursday for comparison.
As you can see, these are much closer in time. Any idea what's going on here? Do I have a bad sensor in the watch somewhere perhaps?
Finally, I have noticed that my watch's typically "tap" notification sounds a lot more like a warbly vibration these days.
I'm bringing my watch in for service Saturday; any chance these issues are related?