Hey guys,
First post on the forum however i've been a browser for a while,
I have just put in a memory stick which has failed on me in to my USB slot (a Flash Voyager USB3), and i loaded up disk utility to wipe it clean however i seen the message as posted below :
I thought it may be the external hard drive i have just put in but i removed it and the error message persists.. Does this mean my hard drive is failing? I use my mac for music production and i have a lot of important things on it, not yet backed up (going to order a time capsule today)
I don't understand why it's called Samsung which seems to be failing, but it is 1TB in size so i am guessing that's the make of my hard drive?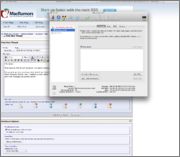 But it raises another question as to why my Macintosh HD seems fine below it?
Does anybody know what could be up with it?
I'm not in a position to reboot my whole system and restart it again at the moment with files not yet backed up
Thanks!