... in OS X.
I posted this thread a few days ago on the 'Apple TV
and Home Theater
' board, but got no responses. In retrospect, I think I may have posted it on the wrong board as I
**think**
it should be a welcome find for folks other than me.
So as to minimize my amt of work, I'm just going to paste the post here:
What it will require:
1) If your only lossless soundtracks are uncompressed multichannel PCM (unlikely, though I had about 40 for which this was the case):
a) HDMI-equipped Mac Mini (not free)
b) Plex (free)
c) BR drive (or BR/HDDVD drive if you're archiving both) -- around $100
d) MakeMKV (free for 30 days)
If you use the above approach, you will have a similar outcome to mine below, in which 3:10 to Yuma, a movie w/ a 7.1 LPCM soundtrack, is played back (note the source bitrate and output bitrate on the top line):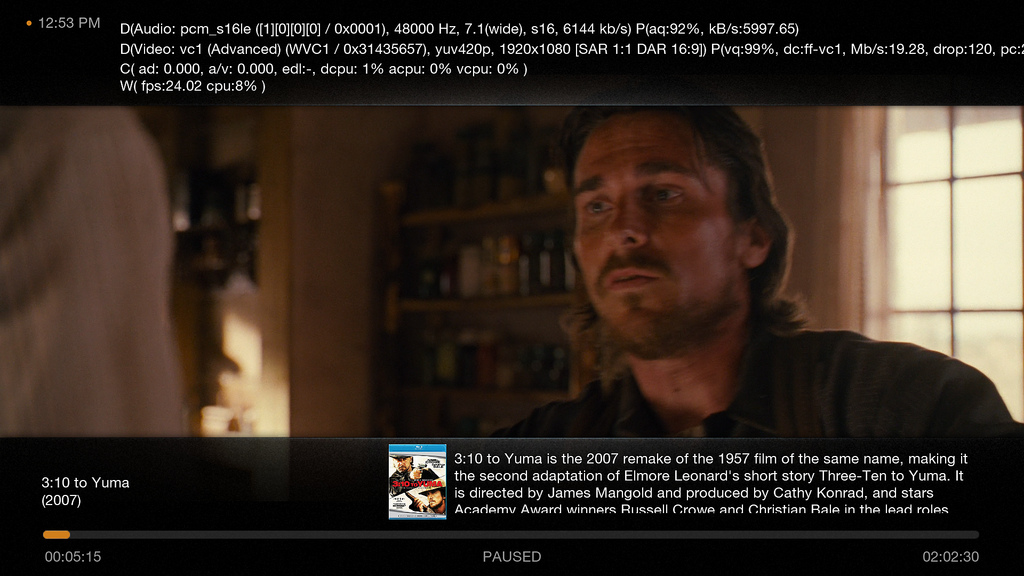 2) If you plan on playing back DTS-MA or TrueHD tracks (most of you) as well:
a) HDMI-equipped Mini (see above)
b) Plex (free)
c) BR/HDDVD drive (see above)
d) virtual machine (via Parallels, VMWare, or Bootcamp) or Windows PC
e) AnyDVD HD -- $131 if ordered. Free if unscrupulous...
f) Clown_BD -- free
Once Clown_BD has access to either a physical disk or a virtual disk, it will have the capability to convert the proprietary format (DTS-MA or TrueHD) to LPCM and create either an iso or an m2TS file. If you create an M2TS file, it will be able to be played back (as long as you select the correct audio track) in Plex. If you make it into an iso file, you can then use MakeMKV to create an mkv file with the lossless track via LPCM with or without the original uncompressed track. The beauty of the 2nd solution is it would allow you to create an mkv file with both an encoded format (DTS-MA or TrueHD) and a decoded LPCM format, such that it could be played back both on your mac mini (in LPCM format) along w/ whatever other peripherals (Boxee Box, Windows PC) you use (in encoded format).
In the example below,, we see what Plex does with 'Sunshine' (whose native soundtrack is DTS-MA) in LPCM format:
And, if you're wondering if your mega-audio-packed qazillion kHz, 7 million bit file will work, here is Dave Matthews & Tim Reynolds Live at Radio City, playing back its 96kHz/ 24bit TrueHD soundtrack in decoded LPCM format on Plex in OS X:
Last edited by a moderator: