macrumors regular
Original poster
I hate these threads just like anyone else but I can't wait for the MBP 16 so I have to buy a 2019 in a couple of days
I'm having second thoughts on 13 vs 15 when I had it in my mind that I was just getting a 15 period!
Here are the configs I'm narrowed it down to: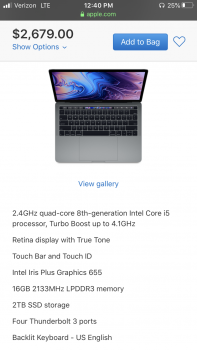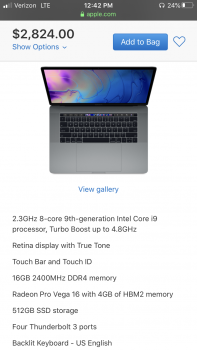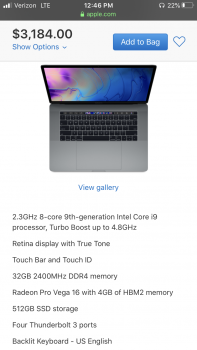 My use case is school work... particularly online college course that I will spend many hours working on.... which is why I'm would prefer the 15 inch. But it's at the top end of of my budget considering that I refuse to buy the outdated 560x so the Vega 16 is as good as it gets considering I don't need the horsepower of the Vega 20 at all! And then there's the better thermals of the Vega cards to consider as well.... and then there's that voice in the back of my head to not get 32 gigs of memory. I plan to have quite of few tabs open along with multiple ebooks and word documents as well... can 16 gigs handle that?
But then considering what I would be paying for a Vega 16, I can't overlook the value of the maxed out 13 either
My head hurts... the 13 would be perfect for me plus a display but due to my job... I live in hotels so there's no point
Decisions decisions... a couple of things. I would be picking up whatever Macbook I get from the Apple store in Delaware so no sales tax! And I have the option of redeeming 115,000 hotel points for $300 in Apple giftcards which is a bad value in my opinion but the option is there
Give me some wisdom guys
Last edited: