macrumors 601
Original poster
Help me. I have no idea what I did, but somehow I've encountered a problem and don't know how to fix it. It seems that my monitor is stuck in 256 color mode (or something similar looking). This occurs for my account only; my test user account is fine and shows up in all it's millions of colors richness.
It started the other night when my bluetooth mouse died and I was in the System Preferences trying to find a way to get the cursor keys to control the mouse. I was in Universal Access at some point, but I'm not sure if that was where something changed or not. I looked through there and didn't see anything.
It has to be some setting that I changed for this account, since my test account is fine, but I don't know what that setting is. Here are a couple of screens of the settings, in case that helps.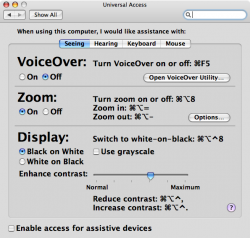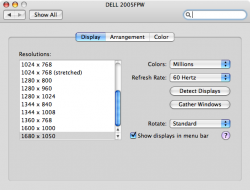 Help me find out what is wrong with my account!