Like the title says - How can I achieve that glossy, creamy, saturated, shiny, Hollywood movie style look to my photos using only Photoshop Elements 6?
I realise that description is a bit mental but it's the best way I can describe it without using photography terms that I clearly don't understand. I basically want my pictures to look like a Hollywood blockbuster. Not HDR, just really rich looking.
I take photos that I think are quite nice but they don't have that punchy wow factor that you see in professional shots.
Here's an example of one of mine that I'm sure in the right hands could look really cool but looks kind of muted and flat to me.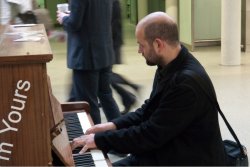 Not the best example granted but it was for a comparison of say this shot by a forum member here that has beautiful colours and vibrancy.