macrumors bot
Original poster
Apr 12, 2001
52,104
13,726
One thing that makes Apple Watch stand out from other smart watches is the app ecosystem. Since there are already more than a million iPhone apps in the App Store, there were already plenty of developers ready to get to work building companions for the wrist worn device. When the Apple Watch launched, there were already 3,500 apps available, and that number grows on a day-by-day basis.
One of the best ways to customize your Apple Watch to fit your needs is to download all the apps you want and to organize them for easy access. We've got a tutorial that covers downloading apps from your iPhone, installing them on your Apple Watch, and rearranging them on your Home screen.
Downloading Apps for Apple Watch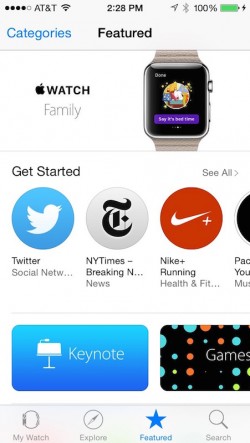 At the current time, all Apple Watch apps are powered by the iPhone, which means they're bundled into iPhone apps. Apple Watch apps are downloaded by downloading a compatible app onto your iPhone, which can be done from the regular App Store or through the "Apple Watch App Store" located within the Apple Watch companion app on your iPhone. The Apple Watch companion app has an icon that looks like a watch and is automatically installed on all iOS devices running iOS 8.2 or later.
Open the Apple Watch app on your iPhone.
Tap "Featured" to visit the Apple Watch App Store.
Find the apps you wish to add to your collection and download them the way you would with an iPhone app. If it is already on your iPhone, you will see "Open." If you have previously downloaded the app, but it is not currently on your iPhone, you will see the iCloud icon.
Alternatively, you can open the regular App Store on your iPhone or Mac and look for apps that are tagged with "Offers Apple Watch app for iPhone."
Click here to read more...
Article Link:
How to Download, Install, and Arrange Apps on Apple Watch