A few months ago I picked up a jailbroken iPhone 3G with OS 4.2.1 (
8C148
) off of Craigslist for my kid who has been using it successfully on T-Mobile for voice/text & wifi ever since.
-
Why I decided NOT to change the iPhone IMEI (I simply switched from AT&T to T-Mobile)
However, today it locked up & I've done a hard reboot scores of times
From a blank screen, the hard reboot gets us the apple logo
Then it goes to the 'connect to iTunes' USB->iTunes logo
And, lastly, plugged into the Windows PC with iTunes, iTunes apparently tells us the iPhone is locked in 'recovery mode'
The only text information we get is as shown below:
iTunes must check the iPhone software update server to identify this device.
To enable automatic checking for updates, go to the General pane of iTunes
preferences and turn on "Check for new software updates automatically".
What is the next step?
It won't do a
soft reset
(i.e., holding down the sleep/wake button & waiting for the slider to appear); and when I do a hard reset (i.e., holding both the sleep/wake & power buttons for ten seconds), it goes into "recovery mode" as shown in the photo sequence below.
Q: What happens if I say "yes" to the iTunes restore request?
I'm afraid to restore directly from iTunes because it's jailbroken and we don't want iTunes to restore the original OS ... so my first question is:
Q: If I elect to restore from iTunes, will the jailbreak disappear?
The error has no words so it's difficult for me to find the solution in a google search (all I come up with is iPhone restore which 'might' actually blow away the jailbreak, data, and use of T-Mobile).
May I ask the key question?
Q: What do you suggest for this jailbroken iPhone which is stuck in 'recovery mode'?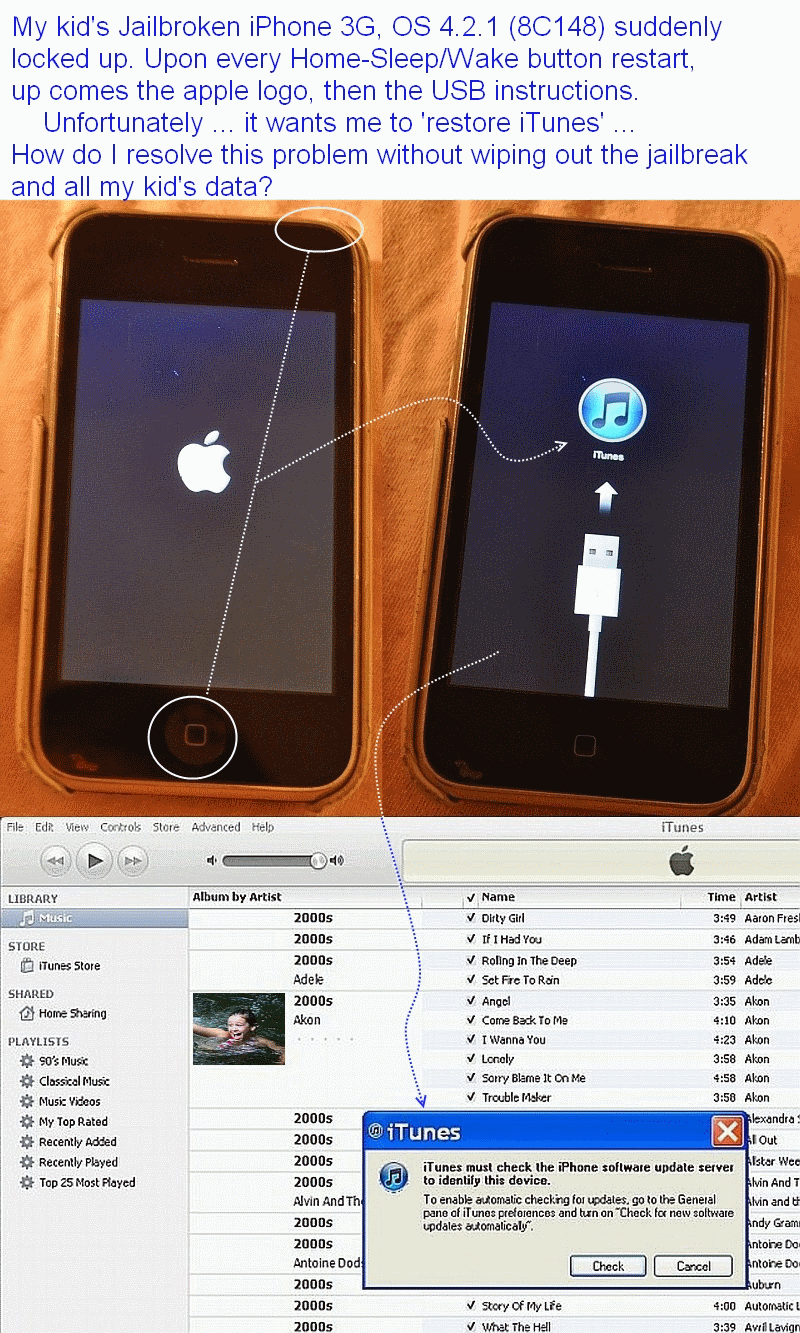 Last edited: