macrumors 6502a
Original poster
Here is a guide that I think a few are looking for to help them open the door to other options outside of Nvidia Kepler GPUs like the GTX 680 that are rather old and quite expensive.
I'm going to do my best to break this into two sections, one about getting boot screen with a stock PC RX 580 with no flashing and a second section for getting the RX 580 working in Mojave 10.14.5 as these really seem to go hand in hand.
The Mojave portion of this guide will only work for 10.14.5 due to AMD Metal driver changes for other versions.
@Syncretic
has a beta SSE 4.2 limited instruction emulation kext that will allow other versions of macOS
(I'm using it, and it works, no it is not included here until he has released it)
Side Notes:
My 3,1 has the iMac WiFi/BT combo card (BCM94360CD) installed, so I don't use the WiFi patch from dosdude.
My 3,1 BootROM has been modded with native APFS boot support and NVME boot support so I don't use the APFS patch from dosdude. If you want to try doing that the info is available but
@h9826790
has mentioned it is risky of creating a real brick for your 3,1 due to a very convoluted setup on the motherboard for the flash memory holding the bootROM.
I also have Win 7 installed in legacy CSM mode, and the RX 580 works perfectly fine in windows with no messing around.
Section 1 - Boot Screen:
First you will want to install rEFInd to enable support for a boot screen that will provide, single user boot, verbose boot, and filevault access for GOP ROM enabled cards, like the RX 580.
You will need to use this version of rEFInd modified with GOP support and an added EFI driver from clover that allows for display support between the rEFInd boot picker and the OS splash screen, if you skip the EFI driver from Clover you will be able to pick a drive to boot to but you will have a blank screen between picking the OS drive and the macOS desktop.
Your /dev/disk## will likely be different, I've got a lot of hard drives and partitions in my machine.
You need to make sure you find the physical disk that contains your APFS partition containers that has your planned install location.
You can see that I have a disk that happens to be "disk1" which has 6 partitions on it, 3 of which are different APFS containers that contain different APFS volumes.
Obtain the output from "diskutil list" from Terminal, it should look somewhat like mine:
Partition '0' isn't really a partition at all, it just IDs it as GUID style partitioning.
Partition '1' is the "EFI" partition we are looking for and is where we want to install rEFInd.
Partitions '2, 3' contain various APFS MacOS installs
Partition '4' is going to be our target APFS partition later for the new copy of Mojave
Partition '5, 6' are HFS+ partitions containing MacOS installers (instead of booting from USB sticks)
Code:
/dev/disk1 (internal, physical):
   #:                       TYPE NAME                    SIZE       IDENTIFIER
   0:      GUID_partition_scheme                        *1.0 TB     disk1
   1:                        EFI EFI                     209.7 MB   disk1s1
   2:                 Apple_APFS Container disk4         822.6 GB   disk1s2
   3:                 Apple_APFS Container disk3         66.3 GB    disk1s3
   4:                 Apple_APFS Container disk10        50.0 GB    disk1s7
   5:                  Apple_HFS old-installer           40.4 GB    disk1s4
   6:                  Apple_HFS Installer               20.4 GB    disk1s5
Now for the fun parts:
Download, unzip to your desktop to prepare for manual installation of rEFInd from here:
https://drive.google.com/open?id=1qrXbRiFIfqeqaxgmZ8tPGQn4PIdLL_Hh
Now download the EFI driver from Clover to your Desktop:
https://github.com/NTT123/Hackintosh-HP-Z420-MacOS-High-Sierra-10.13-10.14/blob/master/CLOVER/drivers64UEFI/OsxAptioFix2Drv-64.efi?raw=true
Then from the Terminal, mount your EFI partition and copy rEFInd into place.
First make a mount point:
Now mount the partition:
Code:
sudo mount -t msdos /dev/disk1s1 /Volumes/EFI
Now copy rEFInd over there (The EFI is there twice as the EFI partition has a folder called EFI in it at the root):
Code:
sudo cp -r ~/Desktop/refind /Volumes/EFI/EFI/refind
Now copy the driver from clover into place:
Code:
sudo cp ~/Desktop/OsxAptioFix2Drv-64.efi /Volumes/EFI/EFI/refind/drivers_x64/
If you open Finder you should now see something like this:
Now we need to tell the Mac that we want to boot from rEFInd instead of macOS or windows.
Side Note: You may notice there is no refind.conf file, thats fine as you should be able to boot just fine using the default refind configuration, there is no need to create one, however there is a sample you could use to make one.
This command will tell the EFI to boot from this device going forwards.
Code:
sudo bless --mount /Volumes/EFI --setBoot --file /Volumes/EFI/EFI/refind/REFIND.efi --shortform
You should now be able to reboot and see the rEFInd boot picker, it looks a little bit like apple's setup but has some other features.
This is what you should see in the about page in rEFInd to confirm you have the right version installed.
version 0.10.3+GOPScreen+MemLog
Do not use ALT/OPTION to attempt to pick a boot drive, it will not work, do not change your boot drive from System Preferences as it will 'unbless' this refind boot method. You may want to setup a refind install on a USB stick to help you if needed in the future.
At this point your RX 580 will be able to have a boot screen (or any other GOP enabled ROM GPU), but you still won't have the ability to use the card in modern versions of macOS just yet due to the SSE4.2 CPU instruction set requirement from the AMD Drivers for Sierra (I think) and later, again it will work for Windows 7+ just fine, so if you want windows then you're done and can put the card in.
Section 2 - Mojave:
UPDATE -- As of 10/19/19 it is much simpler to use the now released SSE 4.2 emulator which allows for many other options of macOS with this card. Dosdude has included this in the Catalina patcher only at this time, but you can use the 'AAAmouSSE.kext' across multiple versions of macOS.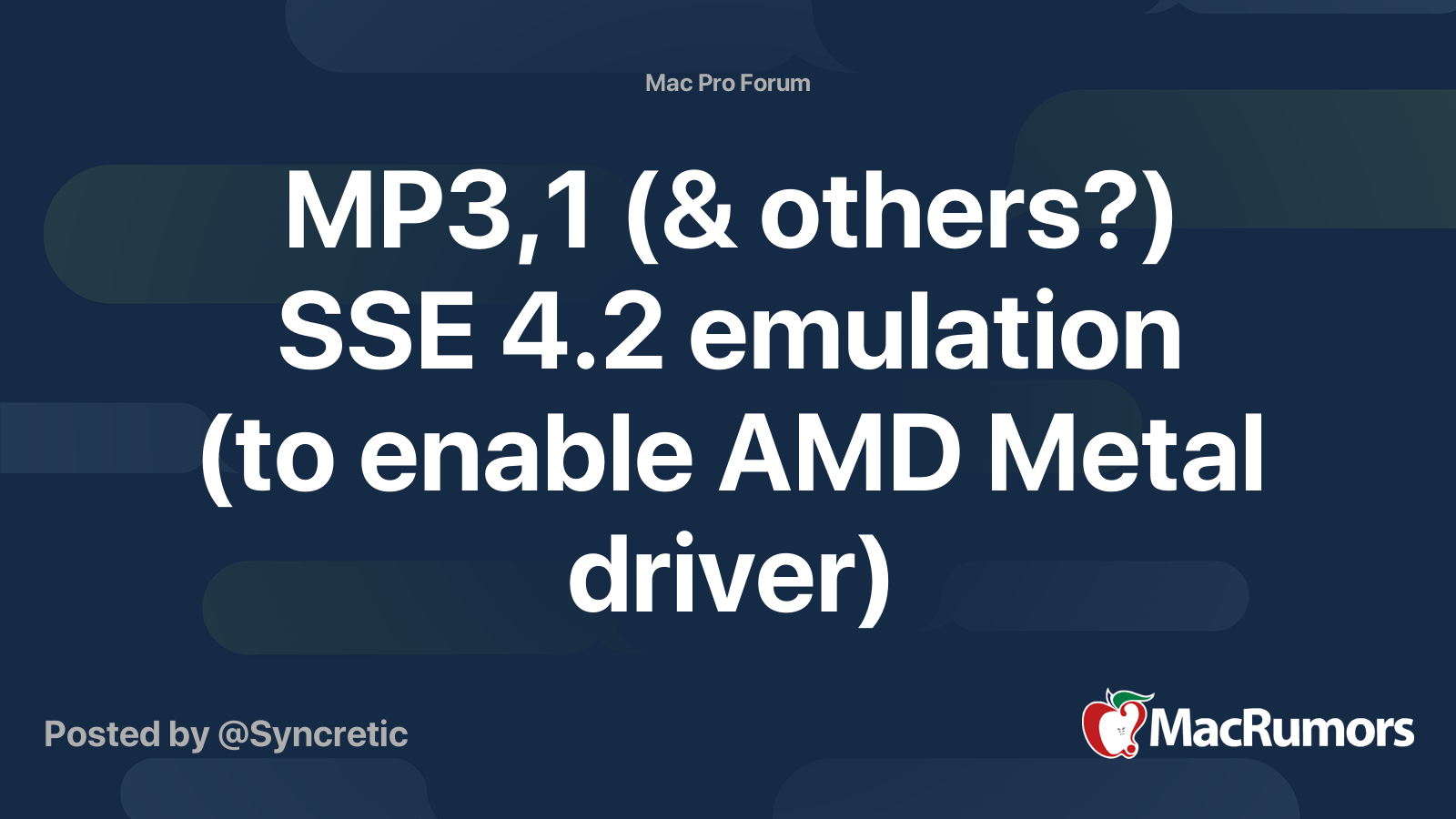 MouSSE (Partial SSE4.2 Emulator) Public Release Current version: 0.95 (8 Jun 2021) When referring folks to MouSSE, please just link directly to this post, which will always contain the latest version & info. EDIT (8 Jun 2021/1 Sep 2021): Monterey changed things up, so a new version was...

forums.macrumors.com
Retaining original 10.14.5 specific content should it be useful for someone...
Using the latest patcher for Mojave from
@dosdude1
that includes the patch from
@netkas
for 10.14.5 AMD Metal GPU Driver you should be able to prepare an installation drive that should be able to boot with the RX 580 installed as he removed the AMD graphics acceleration which allows even the RX 580 to display an image in the 3,1.
My process will be using a clean install to a new partition, you could probably upgrade an older OS if desired but that contains risk for the first time users. I choose to install to a new partition and once I've confirmed it is able to handle my needs I then use the migration tool to move my user account, settings, applications, etc over to the new install ... pick your own path.
To make your life easier for later, download, extract, and copy this file over to your installer location (USB/partition, place in the root of the drive for easy access):
http://s000.tinyupload.com/index.php?file_id=71892869756912266512
This is the DisableLibraryValidation.kext file that is needed to allow the netkas driver patch to work.
As you saw before I setup a new volume by splitting an existing APFS volume and will be installing to "MJ" (which is container disk10).
If you've prepared the 10.14.5 installer and staged the kext above in the root of the installer drive, you can now install your RX 580 now and boot up to the installer using your new refind boot loader.
Install macOS to your desired location "MJ" in my case.
Do not Restart when done as it will change the "bless" option and you won't be able to boot into the installer again without some effort and it will be panicking due to the Apple Telemetry Plugin as you haven't run the post install tool yet.
We will fix the bless setting again before we reboot, which should be persistent going forwards, unless you install a new copy of macOS (updates don't appear to break it so far).
Open Terminal
Note this assumes that your disk is still disk1, you can verify this again with "diskutil list" if needed.
Code:
mkdir /Volumes/EFI
mount -t msdos /dev/disk1s1 /Volumes/EFI
bless --mount /Volumes/EFI --setBoot --file /Volumes/EFI/EFI/refind/REFIND.efi --shortform
Now that we will be able to reboot when needed, let's continue preparation for Mojave.
Copy your DisableLibraryValidation.kext over from the installer drive and correct permissions.
Code:
cp -r /Volumes/Installer/DisableLibraryValidation.kext /Volumes/MJ/Library/Extensions/DisableLibraryValidation.kext
chown -R 0:0 /Volumes/MJ/Library/Extensions/DisableLibraryValidation.kext
chmod -R 755 /Volumes/MJ/Library/Extensions/DisableLibraryValidation.kext
Start the Post Install tool from DosDude1
Choose the patches you need, then tell it to reboot.
DO NOT, DO NOT, DO NOT USE THE LEGACY VIDEO PATCH.
DO NOT, DO NOT, DO NOT USE THE LEGACY VIDEO PATCH.
After the reboot you should come up to rEFInd
(if not you may have failed to apply the bless command properly)
Boot MJ into single user mode (use F2 to get extended boot options for this drive)
We need to boot single user to manually sign the modified driver as netkas's signature is rejected by macOS (I can only guess as to why it happens, perhaps a self-signed file only works from the machine that signed it) and you can't use codesign from the installer.
Code:
mount -uw /
kextload /Library/Extensions/DisableLibraryValidation.kext
cd /System/Library/Extensions/AMDMTLBronzeDriver.bundle/
codesign -f -s - ./Contents/MacOS/AMDMTLBronzeDriver
exit
Notes:
Due to text wrapping on the terminal it is easier for you to "cd" part of the way to the AMD Metal driver instead of trying to type the whole path in for codesign.
Kextcache will likely run after you type exit, and the Mac will then likely auto reboot which is fine, as you should now be able to boot MJ normally with full AMD GPU Metal acceleration bypassing the SSE 4.2 requirements.
You should see welcome wizard or continued setup if you did an upgrade I suppose.
If you see a cursor and grey / black flickering screens you didn't get the signing done correctly or didn't load the DisableLibraryValidation.kext correctly.
You are done, now don't install any macOS updates, or you will break your video driver.
Feel free to enable / use FileVault, as it will "just work" for the 3,1 and now with your setup you don't need to hang on to an ancient GPU for "boot screens".
Now if you want more fun, look at enabling AMD Hardware Acceleration for h264 / HEVC video encode / decode which will let you play 4k content on the 3,1 flawlessly with very low CPU usage. I'm using this and it has been a very nice addition to the 3,1.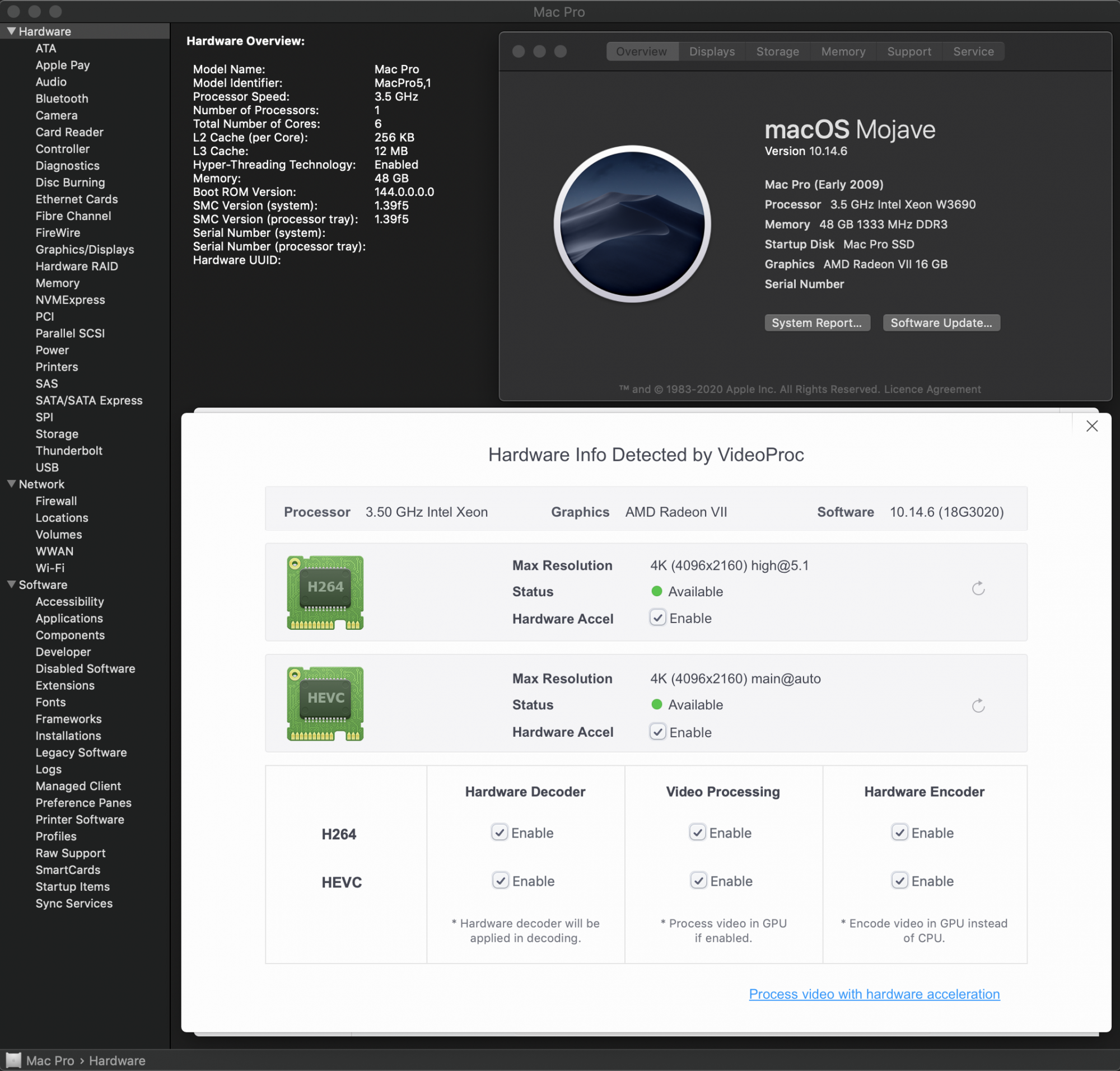 [For existing OpenCore users, you can always download my latest OpenCore package at post #1314 for update] Full HWAccel achieved now! Everything is covered in the OpenCore thread. The step by step tutorial to enable AMD hardware acceleration is now at here, but I strongly recommend you go...

forums.macrumors.com
Once the SSE4.2 limited instruction set emulation kext by
@Syncretic
is released from beta, this will allow you to run with the RX 580 on any version of macOS that the GPU is supported in (Catalina as well) and there will be less messing around as it should be able to be properly integrated into the dosdude1 patcher eliminating the need for the single user mode actions.
Ideally, I'll update this post when that is released.
Last edited: