macrumors 6502a
Original poster
I recently received my new iMac 27"
Specs are as follows:
5K i7 4.2GHz/580/512SSD/24GB RAM 2TB T3 SSD and Dell P2715Q 4K
Primary usage includes writing, professional photography for catalogue and web presentation and some light video work.
I spec'd out the system to an i7 because virtually every pro shooter I know told me to stay away from the i5 and not to worry about drives, which could be updated. I initially chose the FD 2TB drive, but a memory failure on that machine resulted in Apple shipping me this new unit with the 512 SSD at no charge.
OVERALL
I love this system. The i7 is noticeably quicker than the new i5 (my son's machine). The screen is beautiful. Apple continues with the crummy magic keyboard which somehow is STILL not backlit, so I use the excellent Logitech unit which is vastly better and backlit. It also connects to three systems with a press of a button. Running photoshop with various plug-ins I able to load up a huge amount of RAW Nikon or Canon files and batch process with ease. Everything happens very quickly and there's little to complain about. If you're a photographer, picking up a good card reader is essential.
5K DISPLAY
It's a beautiful display, but really no better than the 450 dollar 4K P2715Q right next to it. The Apple display seems to have a slight advantage in dynamic range via better control of highlights. But the Dell does a bit better with shadow details. Pixel density at 27" is high on both monitors so it's tough to see much (if any difference). The matte finish display of the Dell is superior to the highly reflective Apple display when it comes to video/photography. With the right room lighting either monitor is up to pretty much any task. The Dell is a superior product in the end because of the matte display. The Dell also rotates to portrait mode and has a FAR more adjustable and stable stand.
SSD VS. FUSION & i7 VS. i5
I had the 2TB fusion. In the next room is the same unit with the 1TB Fusion. All of these are fast machines once you add some RAM. The SSD version that I'm reviewing brings up programs and files a bit faster, but I don't see it making a huge difference in most workflows. Obviously there will be some situations where the SSD will be MUCH better. But listen to folks at a few of the top Hollywood post production houses (and in NY too!). Get the i7. Don't get a far slower processor to get the SSD because you can add the SSD later on. If there's ever going to be a bottle-neck, choose a machine where this can be addressed with a fairly easy upgrade. Start with the i7, add RAM, maybe an external T5 SSD and later on, if you need it, swap out the FD for a nice SSD.
SOUND
The sound of the iMac isn't terrible, but you already know that it's best to go with some external speakers. I use the HK sound sticks, but they're barely acceptable. You can spend thousands on a good computer sound system, so good luck.
MAGIC MOUSE/KEYBOARD
Boy, is this thing long in the tooth. Microsoft has some far better alternatives. My son stole mine, so I'm about to order something better. The best use for the Magic Mouse is with my MacBook Air as it's a very slim mouse and easy to carry around. As for the keyboard...no thanks! An illuminated keyboard is a must and I have it with the Logitech K811 Apple keyboard, which also controls my Air if want.
FINALLY
So this is the setup that replaced my new MBP with the awful defective keyboards. The Air will suffice for work on the go and this desktop is a monstrously powerful system that should last quite a while. There's not much to complain about...but I'm always looking! ;-)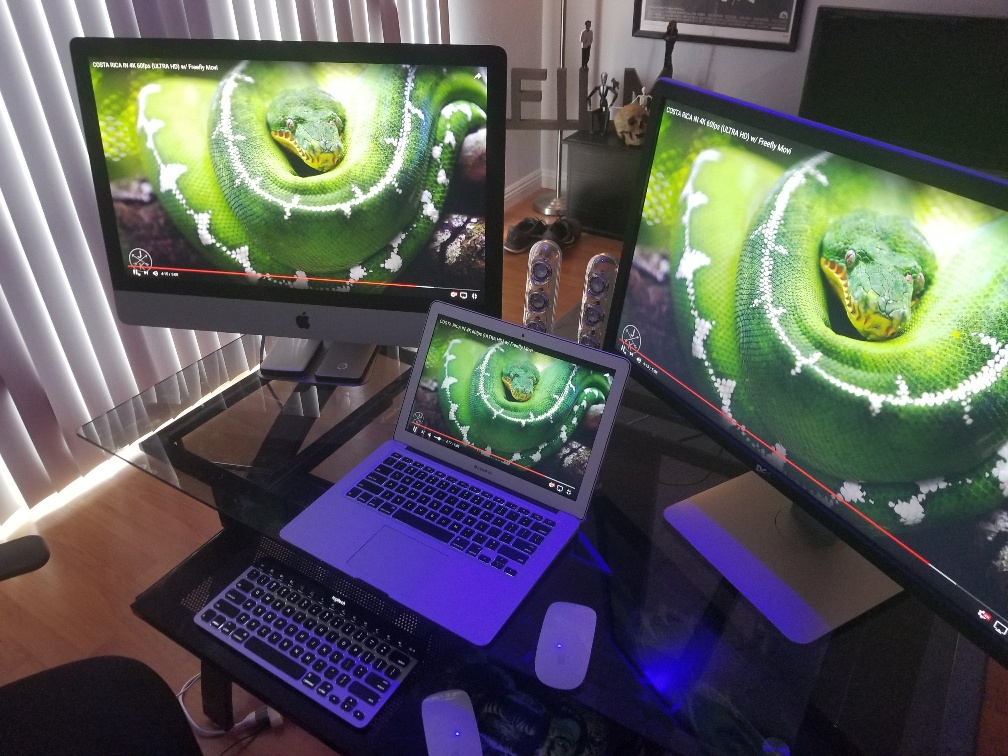 Cheers,
R.
Last edited: