macrumors 65816
Original poster
I decided to perform what I call an "efficiency" test on my 7-month old iPhone 6s running the latest beta of iOS 10.1.
I managed to get an incredible
12 hours 40 minutes of usage and 32 hours 56 minutes of standby time.
In comparison, my previous record was 9 hours 32 minutes of usage.
Stopped charging on Thursday at 7AM. Haven't charged yet as the time this thread is posted (Friday at 4PM).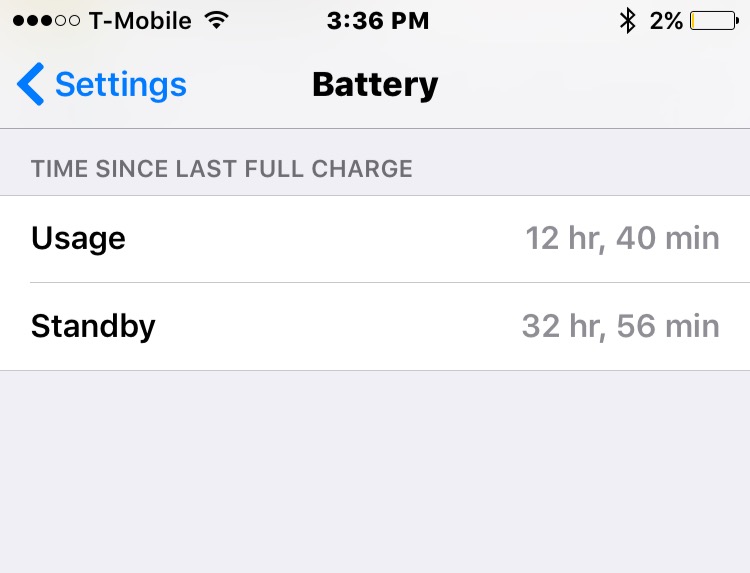 This is what I did to get this much:
• Restored from backup on 9.3.5, updated to iOS 10.1 beta 1 and then to 10.1 beta 2.
• Reset all Settings on iOS 10.1 beta 2.
• Low Power Mode the entire time.
• Decreased usage of social media (Instagram, Snapchat, etc.)
• Increased usage of Reddit and other apps such as Safari.
• Same texting habits (mainly Messages, GroupMe and Telegram).
• Strong cellular reception the entire time, Wi-Fi 90% of the time.
• Little navigation.
• Airplane Mode while sleeping (10 hours).
---Airplane Mode stealth test: 3% decrease over this time in Airplane Mode.
• Brightness 25-40% the entire time.
• 2-3 hours of music playback.
• Apple Watch always connected.
• Background App Refresh turned off, Mail refresh turned off.
• All Location Services turned off except Navigation, Weather and Find my iPhone.
It's always important to note that
usage does not equal screen on time.
Of the almost 13 hours of usage, I had the screen on around 7-8 hours.
So if you guys want great battery life, you can get it if you really want to, as long as your battery itself is healthy.
Cheers!
Last edited: