macrumors 68020
Original poster
For awhile now, I've felt like my drive to collect and use vintage Macs has been almost none, in comparison to the past 3 years where I've been all over using and getting more Macs. This year (which i consider to start in September, to coincide with school) has been a bit of a slump, keeping things boring by only really using my 15in MacBook Pro 9,1, my 17in MacBook Pro 6,1, and my FX-6300 PC. My gaining of Macs has slowed significantly compared to last year (September 2016-September 2017, again coinciding with school years), only gaining 11 new machines (PCs and Macs) compared to last year's 23 (again, PCs and Macs). Maybe it's because my money is being used for getting other things, like food, gas, new technology, having a good time with friends, and video games old and new (been working on my retro games collection lately). Maybe it's because I was in Senior Year of high school, an extremely busy and stressful time in my life. Maybe it's because I just got tired of it all. Most of my 11 newly gained machines have all been modern, or at least more modern than PPC/68k. Asking around, several other people said their interest and drive has been slumping as well, so maybe it's just a declining lack of interest amongst the community.
This all might have been true, up until this past weekend...
Over the past weekend, I attend Vintage Computing Festival: East 2018 in Wall, NJ at the InfoAge Science Center. VCF is an "expo" of sorts to show off collections of Vintage computers. There were luggables, Apple IIs, Apple Lisas, Apple IIs, Commodores, Macs, Tandys, all sorts of stuff. Also at VCF was a sales section, where people could sell machines and peripherals. First thing when I got to VCF was head to the sales section. First thing I see in the midst of a crowd, an Apple Macintosh bag. I open the bag, and sitting in the bag is a Macintosh Color Classic. I check the price... $50!! I ran over to the cashier and bought it. I was beyond excited. I read the paper again, "Sonnet Presto Plus 68040 upgrade card installed and included". Holy crap, that's an insane card! I go to test it in a different room, I plug it in, flip the switch, nothing happens. I try a different outlet, still nothing happens. I try holding the keyboard power button, still nothing happens. Upon a quick investigation of the board, nothing seems out of sorts. I check the paper again, and all the way at the bottom it mentions that it worked fine in 2010, now it doesn't boot. Great, but not too big of a problem, not going to complain for $50. Oh well, I'll look later at home, probably a blown PSU. Anyway, met a couple guys from the Retro Computing Discord, and we hung out there for a bit. We walk back into the sales section, and what's sitting almost exactly where I grabbed the Color Classic, why, it's a PowerBook G3 Kanga! I once again ran over, grabbed it and checked the price... $20!!! Again, I ran over to the cashier and bought it. Damn! 2 rarer Macs that regularly go over $200 each, both for under $100! My luck seemed to be turning around. I hung out more at VCF with the guys from Discord, then we went our separate ways.
I get home, and inspect the Color Classic more. Upon examining the board again, I notice a capacitor had leaked a bit, corroding one of the chips by the ADB ports. I look up what the chip does, and much to my expectations, it's a CUDA IC, aka the ADB controller. Damn it, that explains why holding the power button on the keyboard doesn't boot it up. I set the CC aside for now and turn my attention to the Kanga since it was 11PM at this point and I didn't want to clean the board on the CC. Kanga as expected booted right up into Mac OS 9.1 with a fairly stock install. Everything seemed to work, until I discovered that it's not aware it has an Ethernet jack. Oh well, I'll try reseating it and see if that fixes it.
On to the next day, after I graduated high school
, I did more work on my Macs. On the Color Classic, I used 91% Isopropyl Alcohol and Q-tips on the affected areas. After I cleaned it, I slid the board back in, flipped the switch, hit the button and... *Bong* the screen comes to live with a happy Mac! But alas, it froze upon reaching the Welcome to Mac OS Screen. Alright, well now we have life out of it. I try booting it again, and nothing happens. So I took the board out, and stepped it up a notch and scrubbed the whole board with a toothbrush and more alcohol. After another 20 minutes, I slid the board back in, and it works perfectly now. Yaay! But my challenge is not yet complete. The Presto Plus Card refuses to initialize. And the driver/enabler situation is a disaster. Sonnet and other online sources only have OS 8 compatible drivers, while I'm using 7.5/7.6. Upon reading some forums, some people had gotten the correct driver by contacting Sonnet. So I sent them an email and now I'm patiently awaiting a response. Other than that, the Color Classic now works 100% perfectly, and I couldn't be more happy.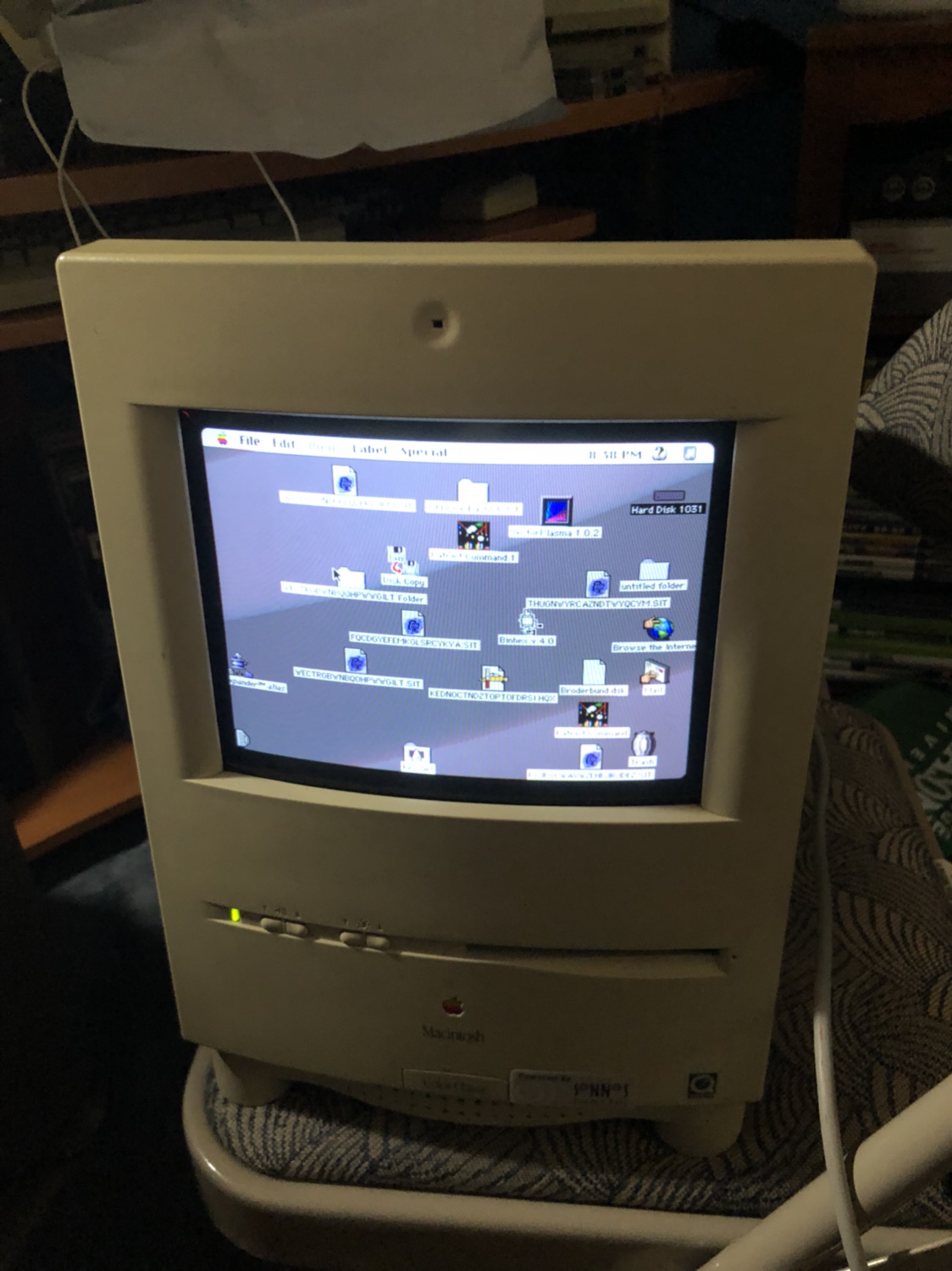 Here it is after it's first successful boot-up.
Anyway, back to the Kanga, the Ethernet Card still didn't seem to be recognized after reseating it, so I'll try scrubbing that with Alcohol too. I also removed the Pram battery in the nick of time, since part of it had already ripped open and was likely about to leak all over very soon. The floppy drive also is not working, so I swapped it with the one from my 5300c. The battery also doesn't seem to want to take a charge, despite my cleaning of the contacts on the battery and in the laptop, and 9.1 saying it's charging the battery. Nevertheless, the Kanga works fine otherwise, which again, I'm really happy about. It also has a lovely 64MB RAM upgrade installed, making the total RAM 96MB.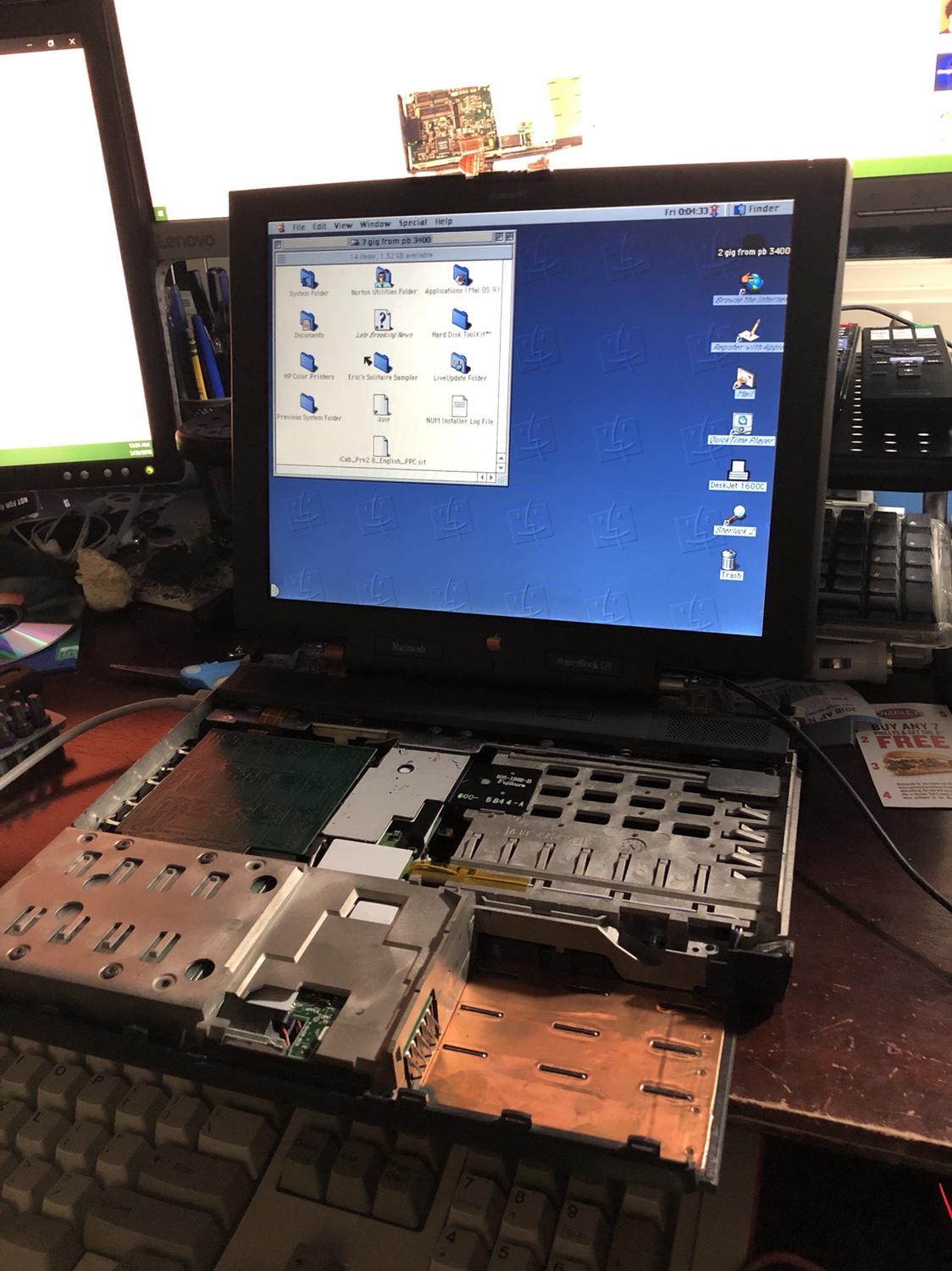 Here's the Kanga's first boot. Had it open for inspection, since the paper said the HDD over heats, which so far hasn't happened, but I do believe it's dying, since it fails to boot sometimes, freezing on the Happy Mac or Welcome to OS 9.1 screen.
So back to my lack of drive for Vintage Macs, I think these two rarer examples of Mac computers being added to my collection has kicked off the renaissance era of my collecting, as I'm feeling like I got my mojo back. I had my PowerMac 8500, Mac SE, Mac 512ke, Color Classic, and Kanga all running at the same time trying to transfer files around and stuff to get the Color Classic setup with a fresh install and hopefully getting the extensions working. Prior to these past few days, all of those machines haven't been turned on in months. I feel like I'm getting excited to use these Macs again- something I haven't felt in awhile.
Sorry about my rambling, so here's a TL;DR:
Lost my drive for collecting and using Vintage Macs. Got a Kanga and Color Classic over the weekend for really cheap, got them both working. Now my mojo for collecting and using Vintage Macs is coming back.
Also,
incase
anyone was interested in joining the Retro Computing Discord that I mentioned, which isn't only for Mac collectors and is full of a lot of awesome and chill guys, some of which I got to meet over the past weekend, here is the link:
https://discord.gg/7pxaRwu