(Sorry if the images are to large/not high quality I took the pictures on my 4s and submitting this thread via 3rd gen iPad)
So with my recent purchase of the third generation iPad. Felt the need to keep it as naked as possible. So i decided i wanted a sleeve instead of a case.
I really like Incase's design with their products, clean, sleek, simple. After viewing all of their iPad sleeves I felt that their Origami sleeve was the one for me. Full protection with a viewing angle while maintaining a simplistic design.
The inside of the origami sleave is SUPER soft and will actually clean your screen at times whe you insert/remove it.
In addition of the Incase sleeve I also wanted to buy a smart cover so that I have no worries of placing my iPad on a table and it getting scratched.
A lot of problems with sleeves is that they can only hold the iPad alone with no case or smart cover.
Turns out the origami sleeve can hold both iPad and smart cover perfectly!
The origami sleeve folds into this triangular stand in which it still supports the iPad with the smart cover. In the viewing mode, the sleeve holds up very well no wobble what so ever.
When charging I like to keep the top "lid" off so that I can plug it in while its in it's protective sleeve, just in case it's bumped off the table.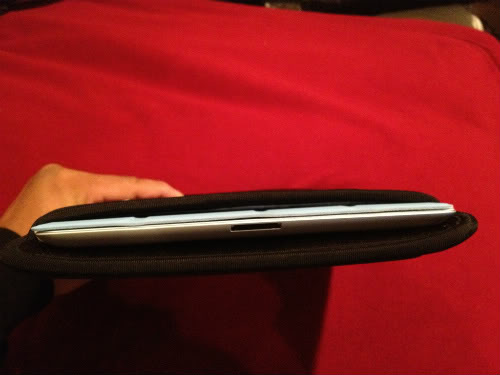 So if you are indecisive in what to buy for your recent iPad purchase here are my two cents.