So this thread will focus more on the Incipio Feather Case and Smart Cover, and touch base a little with the Incase Origami Sleeve.
You can view my Incase Origami Sleeve + Smart cover review here:
http://forums.macrumors.com/showthread.php?t=1344459
So its here my Incipio Feather Case (Frost), this cover comes in various solid colors but I wanted it to be clear so that if I decide to add vinyls to the back it can be seen.
Simple packaging:
Contents, Case, Microfiber clothing (w/ embossed Incipio logo), Screen Protector, and Smoothie application card:
Installed, It has a very nice texture on it. It is not just smooth clear plastic. I dont see this slipping out of my hands any time soon.: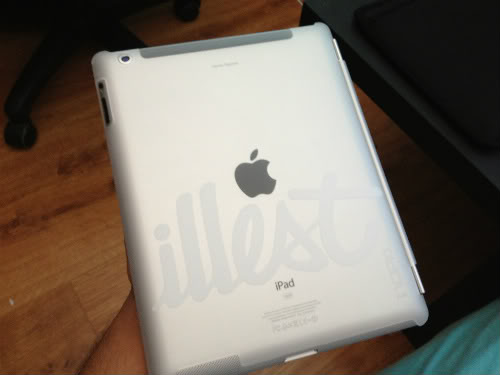 Incipio claims it adds 1mm thickness to the iPad, I don't have any way to prove it but its pretty damn thin. A great addition for anyone who is interested in just using a smart cover.
Iv'e seen other covers that work in conjunction to Apple's Smart Cover, and on the side of the cover that would normally be next to the smart cover magnetic hinge, is just a giant cut out.
This does not have that. It actually covers the smart cover hinge. (I'm not going to test this theory but it may be possible to hold the smart cover alone and it may not fall out like it would alone. Feel free to try this yourself and let me know
)
Oh Hey! It also work with my Incase Origami Sleeve + Smart Cover
And with the sleeve's viewing mode:
It is very snug to put the ipad in with the smart cover + Incipio case because it has to much grip. But I still will be putting it in the origami for that cushioned protection for drops or putting it in a bag for transportation.
Overall, the Incipio back case for the 3rd Gen. iPad is amazing I would highly recommend anyone to pick one up if they are looking for a thin, simple, as naked as possible look for your iPad with full protection, Bonus points for having a screen protector that I wont be using haha, the Retina is to beautiful for that.
The left overs sitting on top of my iPad, I personally wont be using so they are going back into the box:
Hope this was informative, feel free to ask any questions and ill try to answer them with pics as well!