I've had an Ionic Breeze for a while, and I know how well it works, but always hear people claim that it "doesn't' work... so I took some interesting pics of it.
This is after less than four days since cleaning, running 24/7 in my dorm room. The silver part is a little bit I wiped clean with a cloth for emphasis.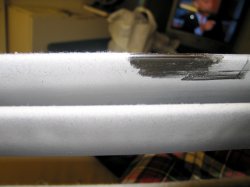 Zoomed in:
I like how some people claim it doesn't pic up any more dust than anything else does after sitting around. That much dust and crap does
not
cover everything I own after a few days! All with no fans, so no noise.
Anyone else have one of these?
EDIT: And in response to a post about how it doesn't move air, here is a QuickTime movie I made of it doing just that:
http://www.danpalka.net/ionicbreeze.mov