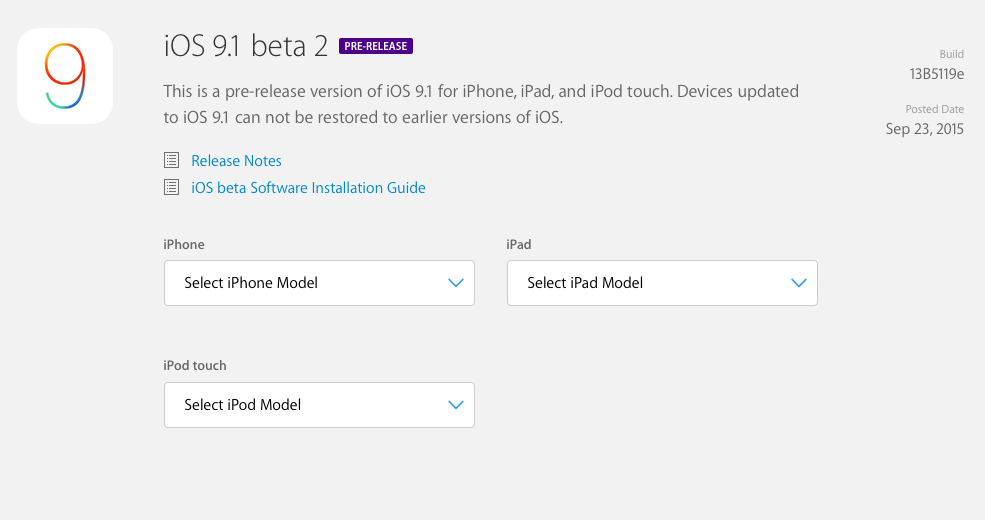 As always, be sure to
report
any and all bugs to
bugreport.apple.com
(Login with your Apple ID very easy)

Add more details for your bug report additional-information

(Optional)
Changes
An option to show or hide contact photos in Messages.app has been added. [Photo]
The "Live Long and Prosper" emoji can now be made different colors (previously it could only be yellow).
Bug fixes
Fixes an issue where some users could not complete setup assistant after updating
Fixes an issue where sometimes alarms and timers could fail to play
Fixes an issue in Safari and Photos where pausing video could cause the paused frame to appear distorted
Fixes an issue where some users with a custom APN setup via a profile would lose cellular data.
Bugs
Settings still open scrolled down.
Notifications without sound - fixed in 9.01, broken in 9.1 Beta 2
Notification Quick Replies on Lock Screen still leave behind a weird keyboard outline
When forwarding an email, placing the cursor inside the message to be forwarded (at the very beginning) and hitting the backspace key causes a crash.
It is not possible to change cellular data settings for some apps (only affecting some users)
Animation missing when going out of edit view in Messages (present even in iOS 8)
If you are on iOS 9.1 Public Beta 1, remove your Public Beta Profile and reboot your phone, after doing so you'll be able to download this Developer Beta 2 release and upcoming beta versions of iOS.
Last edited: