Hey guys,
I really hope some of you can give me some light on this issue that I can't solve!! I have tried multiple solutions already, but no success until now.
Problem:
I have a 1st Gen iPad that it doesn't turn on anymore. When I connect it to the power, the Apple logo flashes for a few seconds (1-2 secs) and keeps on this loop forever. If I connect to the computer, nothing happens. Neither iTunes or Windows recognizes. The only way that I managed for it to be recognized was to put the iPad in the DFU mode. Everything that I tried (explained below) was with the DFU mode.
Attempt 1)
I tried normally restoring it with iTunes multiple times in the DFU mode, but it doesn't work. I always get the 1602 error when it's restoring. I searched for solutions with this error, but nothing worked (e.g. editing the host file, etc). The file that iTunes tried to install was: "iPad1,1_5.1.1_9B206_Restore.ipsw"
Attempt 2)
Then I tried the iReb-7, entering into the Pwned DFU mode and trying to restore with the Customized IPSW by iReb7 (File: "sn0wbreeze_iPad-5.1.1-9B206.ipsw"), but then I got the error 3194. I tried searching solutions for this, but nothing worked.
Attempt 3)
The last thing I tried, last night, was using TinyUmbrella. But it didn't find any "blobs" (i think that's the name) in the iPad, as shown in the picture below: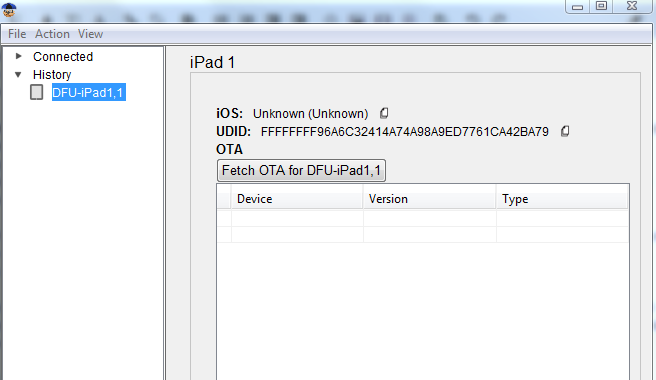 So in the end. I'm stuck with this "dead iPad" and I need some help to fix this!! Any help!! Can be jailbroken, hack, original, etc. Anything that brings the iPad back to life.
I was wondering if the iBoot might be a possible solution for it, as I would like in the future to install "Android" in it? Does anyone know anything about it?
Thanks guys!!