macrumors newbie
Original poster
Hello everyone,
I'm a long time fan of MacRumors both the news and the forums that have helped me many times. Unfortunately I now have a issue which I need some advice on.
I have a couple of dead pixels that are obvious to the naked eye even from a distance so I went to my retailer here in Sweden which is also an Apple Premium Service Provider and showed the sales man and he confirmed them and said he just needed the authorisation from the store's service guy.
Well the service guy insisted that the iPad had just one dead pixel and that he had talked to Apple and they said one dead pixel is not enough for an exchange. What he didn't seem to realize is that if it was just one pixel it wouldn't be so visible considering that it is a "retina" display...
The thing is that it really bugs me since the dead pixels are in the letter "U" when the keyboard is up.
I've attached some pictures of the pixels. The dead pixels are quite obvious no matter what color the screen is displaying. I think there are about 4-5 dead pixels in that small spot.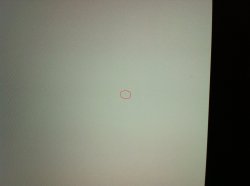 The stuck pixels are only visible against a black background (and incredibly hard to photograph). These aren't really an issue since there are only two of them.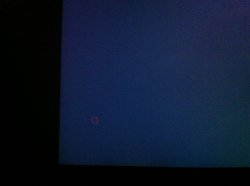 So what do you think my next step should be?