Hey Guys,
I have been busy mocking up my idea of the iPhone 6.
It has the exact same physical dimensions of the 5/5S, yet accommodates a 4.7" display at 1280 x 720 (vs the 1136 x 640 of the 5 etc.)
The display, being 112% the size of the current 4", fits perfectly between the chamfered edges of the device. The Touch ID/Home button, Speaker and Camera can be easily repositioned to accommodate the larger display.
In my opinion, the larger display in the same sized body makes the 5/5s look instantly dated.
To scale iOS up to the larger size, the icons would need to be spaced out (as seen on iPad). I attempted fitting extra rows in, and it became very obvious why Apple has vouched for a 4 x 5 icon grid. It just looks cramped.
I have included a picture of iOS stretched out to fill the display vs spaced out to keep in scale.
Oh and for those wondering how the iPod style iPhone 6 may look, I mocked that up too (note the silence switch)
Just rough and inexperienced concepts, but they give a good idea of my opinion of how Apple will tackle the larger display in the next generation iPhone.
Let me know what you think!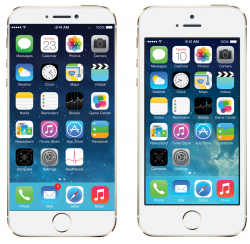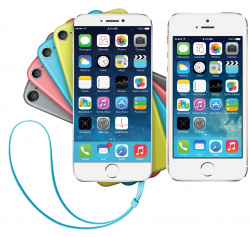 Last edited: