I thought I'd check out a ball game on my new phone to see what the picture quality was like. Now, I have an HD flatscreen TV, too, and the picture quality on THAT is amazing. I could never, ever go back to a non-HD screen. The quality of the iPhone display is just as amazing. I mean, crisp, beautiful colors, just a very, very sharp display. I don't know if this picture does it justice.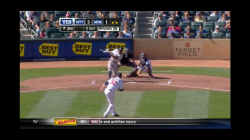 I never thought it would be worthwhile to watch video on a screen this small, but honestly, I can sure see doing that now.
What a display! Wow.