macrumors 68000
Original poster
I received a few days ago an email which looks suspicious. Have a look at it.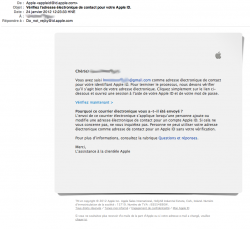 Translation:
Title: Verify the contact email address for your Apple ID

Dear X,

You entered

X@gmail.com

as the contact email address for your Apple ID. To end the process, we have to verify that it is really your email address. Just click on the following link and open a session with your Apple ID and password.

EDIT: the links points to the following domain:

Verify now

Why has this email been sent to you?

This email is sent when someone adds or modifies a contact email address for an Apple ID account. If this doesn't apply to you, don't worry. No one can use your email address as a contact address for an Apple ID without verification.

For more information, consult the Q&A topic.

Thanks,

Apple customer service
The bottom talks about TVA registration numbers, which is weird since TVA is a French tax. I live in Canada.
I received an invoice for a recent purchase on iTunes with this address so I definitely don't need to activate it. And moreover, I've been using this address on my iTunes account since at least 15 months.
I'm not clicking, but is this legitimate?
EDIT: the link points to
https://id.apple.com/(stuff
).