macrumors newbie
Original poster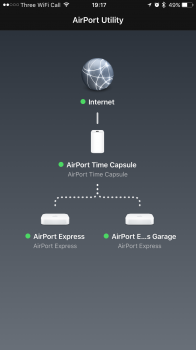 This configuration works without issue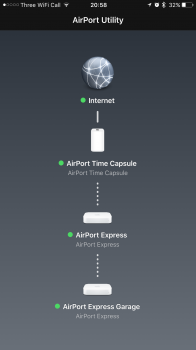 This config results in dropouts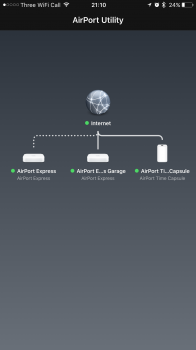 This config results in drop outs
Hi. I've had a Time Capsule and an airport express for extending range a few years now. They've worked perfectly without issue. Time capsule is in my office downstairs and the original express is upstairs in the hall.
Yesterday I installed a 2nd express in the garage to extend the wifi into the garden and to support 2 nest cams I installed.
Since then, my wifi network has been up and down, and the nest cams keep disconnecting as they aren't getting connection when the new express plays up.
Looking in the airport utility, when both expresses are connected as extenders and hang off the Time Capsule everything works great. When the expresses appear as main base stations everything disconnects / drops out.
They jump between various config intermittently and each time I go into the app it seems to change.
Question I have is - is there any way to configure the express so that it always connects as just an extender hanging off the Time Capsule? I've attached a few pics that show the various states that airport utility show my network in.
Any help / advice would be great, thanks.