macrumors 6502a
Original poster
Hi all, I recently upgraded to a 5,1 Mac Pro from my trusty 3,1 which has been given new life as a media server/file server.
It is running Mojave. It will not display anything on my Geforce GT 730 which is a keplar GPU. I know this card works, I used it in my 5,1 when I first got it to flash it up to the latest firmware.
Prior to this, my 3,1 had used a GTX 1060 when web drivers were still a thing, after those were axed I bought a
flashed
780 Ti which has been moved to my 5,1.
The 3,1 works fine with both the original Radeon 2600 and a Geforce GT 120. None of which are metal GPUs which is why I'm trying to use the 730.
Here is a screenshot of the 3,1 connected in screen sharing: As you can see the card is identified, but it won't recognize anything is connected to it. There are two displays connected, my 50" Sony TV and a small 17" DVI monitor. Neither show up unless the stock GPU is plugged in.
Any ideas??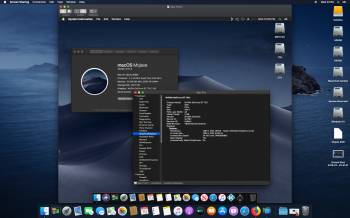 If your answer is to install HS, or a supported OS please don't waste our time commenting. There is a plethora of users out there that make good use out of 3,1s with metal GPUs such as this one.