macrumors 6502
Original poster
Okay so in my previous thread I had tried to install a Walcom Tablet update and it crashed my 2012 5.1 cMP. After spending over a week trying to get it working with both help from here and the FB MacPro upgrade group. I decided to drop it off at a Mac IT shop here in Phuket to see if they could get it to work............as of yesterday they still could not get it to work.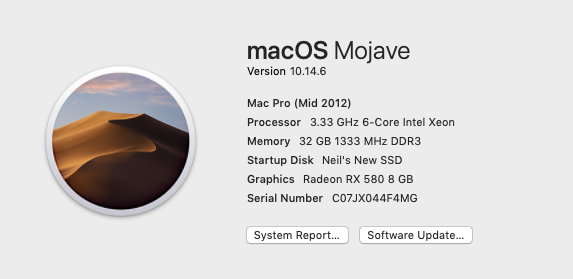 I was told that to get it to boot I would need to get the original 2012 GPU so that I can get a boot screen. So on Friday I bought a
https://rover.ebay.com/rover/0/e114...s,nqc=nqc,nqt=nqt,ec=ec,exe=exe,ext=ext,bu=bu
and hopefully I will have it here before the weekend.
Prior to trying the Walcom Tablet upgrade I ordered a new duel CPU 3.46 with the tray so basically plug and play. I also ordered 96 GB of Ram both of which are sitting in my home already.
my plan is to go and pick up my cMP from the IT shop later today and wait for the GPU to arrive. I have already made 2 boot drives one Mojave and one high serria. So my question is this:
What is the procedure to get my machine back working............I am guessing that I should leave the old CPU in the machine replace the metal upgrade GPU with the original 2012 GPU and try and load High Serria from the boot thumb drive. into my spare SSD that is in bay #1. If I can do that successfully then I should install the PCI SSD that has the old Mojave and the Walcom tablet update and delete that update. If that is successful I'm thinking that I should then put the metal GPU back in the machine and reinstal Majave update from the App Store.........if I get that far without any hiccups then I will change the CPU to the dual CPU with the new RAM...........DOES THAT ALL SOUND CORRRECT OR HAVE I MISSED ANY STEPS???
thanks in advance
neil