macrumors 68020
Original poster
Update from March 2020: using SwitchResX, we've determined that this is actually 4K scaled to 5K. Truth be told, I don't know that it matters; having the Ultrafine running in scaled 5K mode, compared with my iMac's true 5K screen, I really can't see a difference. System performance is still excellent. But it's worth mentioning because I'm sure this would matter to someone out there, and I hate having incorrect information available. I'll leave my original post intact, but please be aware.
Here's one finding that I wanted to share, that I didn't find documented anywhere else on the internet.
The basic story is that I really love the 5K display of my late 2015 27" iMac, but I've grown disillusioned with the "all in one" concept after some insects either hatched or crawled under my screen and died there (of course, within a year after my extended AppleCare expired), leaving me with an annoyance despite the fact that this computer still has at least another two years of life left in it. I plan to transition to a Mac mini in the future, and in preparation, came across a nice deal on a LG Ultrafine 27" 5K monitor.
Apple's own support page for the Ultrafine
states that only iMacs from 2017 and newer can use the Ultrafine at its native resolution; iMacs from 2015 (and 2014) are said to only be able to drive it at a 4K resolution. Fine by me, as this would just be a secondary display.
I bought the Thunderbolt 3 to Thunderbolt 2 adapter and a Thunderbolt cable, and was shocked to find an image that looked just as sharp and life-like as my iMac's display (albeit with a slightly cooler color cast). Windows sizes and fonts all looked the same, as well. If this was what 4K scaling looked like, then who really cared that it wasn't true 5K? But a bit of digging revealed that it probably looked that good because it really was being driven at 5K: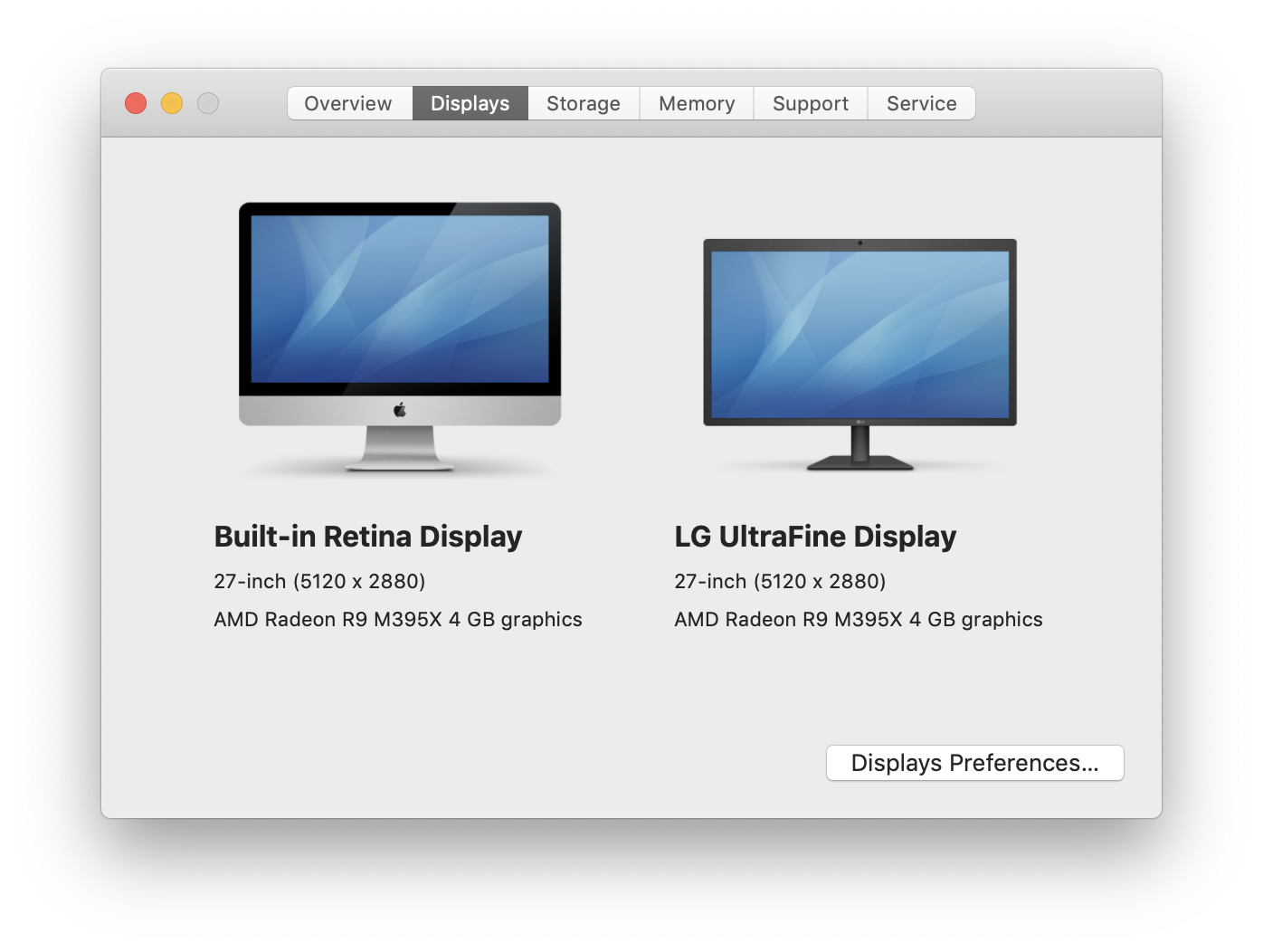 The System Information pane seemed to support this:
Displays:
iMac:
Display Type: Built-In Retina LCD
Resolution: 5120 x 2880 Retina
Framebuffer Depth: 30-Bit Color (ARGB2101010)
Main Display: Yes
Mirror: Off
Online: Yes
Rotation: Supported
Automatically Adjust Brightness: No
LG UltraFine:
Resolution: 5120 x 2880 (5K/UHD+ - Ultra High Definition Plus)
UI Looks like: 2560 x 1440
Framebuffer Depth: 30-Bit Color (ARGB2101010)
Display Serial Number: (
removed for public posting
)
Mirror: Off
Online: Yes
Rotation: Supported
Automatically Adjust Brightness: No
Connection Type: DisplayPort
Refresh rate isn't listed in any of these and Apple has made it very difficult to see what the refresh rate is these days, but mouse and window dragging movement is entirely smooth; I'd be surprised if it weren't running at 60 Hz.
While it's possible that Apple made a mistake with their documentation, I'm guessing it was more a matter of simplification. I chose the maximum upgrades for the CPU and graphics chip when I ordered my iMac, and then maxed out the RAM on my own. The CPU and RAM shouldn't impact this, but the graphics chip would.
My guess would be that the other graphics chip options for the late 2015 iMac would be limited to a 4K resolution.
Yet Apple's support document would become needlessly complicated if they wrote about what the exceptions were; easier to say that all late 2015 iMacs can't drive it to avoid confusion. Either that, or they never actually verified that this configuration would work.
It's a pleasant surprise. The only downside is that now I might get used to working with two 27" 5K displays, and then when the time comes to move away from my iMac I'll find myself looking to purchase another Ultrafine...
(note to anyone else looking to try this: the Ultrafine comes with a nice, long Thunderbolt 3 cable, but Apple's Thunderbolt adapter is a Thunderbolt 2 to Thunderbolt 3 adapter that requires you purchase a Thunderbolt 2 (or 1, they're the same) cable. Use the 2 meter cables; the 0.5 meter ones aren't long enough to have the monitor and your iMac side-by-side, unless they are facing away from each other. Unfortunately the Thunderbolt ports on both displays are on the left side, so this applies whether you would plan to place the Ultrafine to the left or right of your iMac.)
Last edited: