macrumors G3
Original poster
Well, the excitement over Apple finally adding back linked text box functionality has come to a screeching halt.
It appears that "threads" (boxes that are linked) can only appear on a single page. That is, all boxes that are linked together must all be on the same page.
I attempted to recreate a simple 4 page bulletin that is printed on a single double-sided Letter size page. In this configuration, the first sheet contains box #4 on the left, box #1 on the right. On the second sheet box #2 on the left, and box #3 on the right. When printed (short-side duplex) it creates a 4 page bulletin.
Here's a diagram: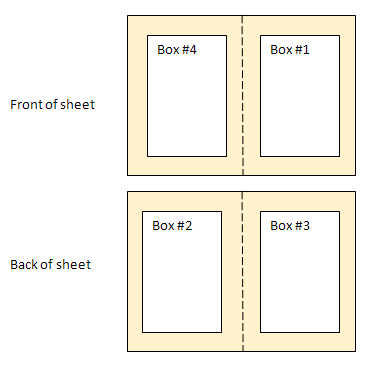 When I create all 4 boxes on one page, I can correctly set the sequence of the thread. But as soon as I move boxes #2 and #3 to the second page, they are automatically renumbered to a new thread, and box#4 becomes #2.
What are other's experiences with the return of linked text boxes/threaded text boxes?