macrumors 604
Original poster
Okay... So I was hacking the Dock to see what I could do to it when I happened upon this file English.lproj>DockMenus.strings and I noticed way down on the bottom there is a "list" function. So I thought I'd try to put that in my Dock. Check out the screenshot here: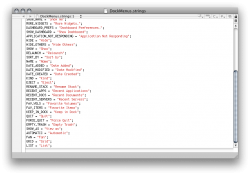 So I went ahead and opened DockMenus.plist in PropertyListEditor and found the Directory list and added "List" to that as seen below:
The problem is, I don't know the code number for the "List" command to trigger the List view so, I'm kinda stuck. Check out what I got so far.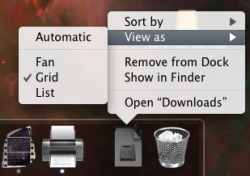 I'm no hacker, so I don't know what code number to put in there to enable list but, it looks like there once was a list view that I just can't seem to get back. Anyone else who is better at this stuff wanna help me out or give this hack a shot? It seems like I'm on the right track but, I'm stuck. Thanks.