I've noticed that the low heart rate notification ONLY notifies you when your heart rate drops below 50 for exactly 10 min.
If it's longer than that, it won't let you know. This is so against the purpose of this app.
Here is a screenshot of my heart rate during night time. You can see that it detected the first one for exact 10 min. But the second one, my heart rate was NEVER above 50 for one hour. The app never said anything. This is just one example. This app only does it when it's within 10min or equal to 10min. I've been observing this for a long time. I have a series 5 and the most updated WatchOs.
Apple if you read this, please fix this seemingly simple mistake.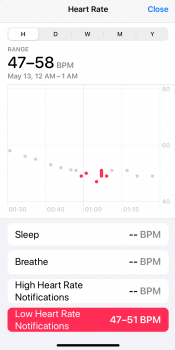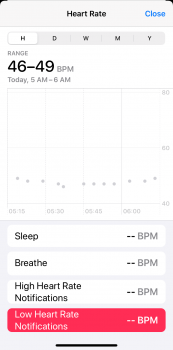 Last edited: