Administrator
Original poster
Staff member
Apr 18, 2004
12,937
4,392
I've been enjoying and getting to know my used 350D for a few months now. After getting advice here (thanks!!), I bought a camera with a Sigma 18-125 3.5-5.6. I find this to be a good all-around lens for most of my purposes. I've also bought a Canon EF 50mm 1:1.8 II, which I'm getting to know.
I need some advice as to whether what I'm trying to do needs a better low-light lens, or if it's just a matter of me not know how to set my camera. Maybe both??
A concrete example of what I want to do: My son plays in a band. I tried to take images at a gig he did at his school Friday, without flash. With the Sigma, they all turned out with an orange cast, and it was of course pretty tough to capture something that was not completely blurry (a bit of blur under these circumstances can of course add atmosphere, but then it needs to be intentional, not hit-and-miss
). The shots with the Canon were somewhat better, but I missed not being able to zoom. In the kind of thing I want to be able to do, using a tripod and adjusting lighting is not possible.
Here's a typical example of how things turned out: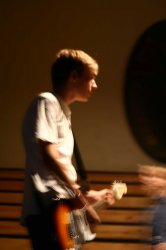 1/60@ f 5.0
44mm
ISO 400
Because I'm still not terribly experienced, I do realise some of my problems can come from the way I adjust the camera. The ISO speed was a miss - - I thought I had set it to 800. But I'm assuming it was more than this. I can't give you exact settings for everything I tried, but I did try to vary the settings using aperture priority and shutter priority, up and down the scales. I'm not advanced enough to be able to go completely manual yet.
What do those of you who use really good glass recommend for shooting in low light without flash? It'll be several months before I can afford a new lens, but I'd like to know what I'm shooting for, so I can keep my eye out for used lenses along the way.
If this boils down to a n00b question about camera settings, fire away with suggestions for what I should have tried, and I'll practice.
Thanks!