macrumors 65816
Original poster
Two years ago I acquired a late 2009 Mac Mini which had Yosemite installed. Performance was ok with 4Gb memory, but despite being a neat, reasonably priced desktop computer, I always thought the Mini range looked somewhat uninspiring.
Being a long-time avid fan and collector of PPC Mac's, I thought I'd try and shoe-horn the Mini into the case of a 2000/2001 '
Cube
'.
For those who may not know, the PowerMac G4 Cube was a commercial failure, but few can deny that it's design was innovative, which earned it a place in the New York Museum of Modern Art, where an example is still displayed to this day. I have both the 450 and 500MHz models, which whilst reasonable performers in their day, are somewhat of a challege now in 2020 for internet use, although they're good fun when one installs an up-to-date web browser (TenFourFox FPR26) and perform a number of tweeks to enhance the performance.
I achieved what I originally set out to do - install the 2,26GHz Mini inside the Cube casing. But the last thing I'd do is 'butcher' a G4 Cube as they're now very collectable, so the innards were lifted out, (a 5 second task) and a few minor components inside carefully removed and retained in a safe place together with their fittings. If and when necessary the Cube can be easily restored to it's former vintage, collectable glory.
Here's a screen shot from the MacMini at that time: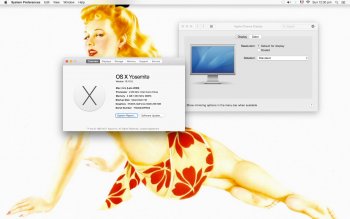 As already mentioned Yosemite was ok, but recently I'd been motivated to bring the '
CubeMini
' really up to date.
So rather than just updating the OS, I decided to refurbish the 11 year old MacMini, and this was performed by complete dissassembly and the following:
i) Cleaning and re-paste of the cpu.
ii) Clean and re-lube of the fan.
iii) Replacing the Hitachi 'spinner' HD with a Crucial SSD.
iv) Upgrading RAM memory with x2 new 4GB sticks.
v) Upgrade to OS 10.14.6 'Mojave' using the dosdude1 patch.
vi) Install a modern, safe web browser that I was comfortable with, namely FireFox 80 (finely tuned with the foxPEP patch for snappier performance), and DuckDuckGo as the more private search engine of choice.
I can truly say that the end result certainly exceeded my expectations.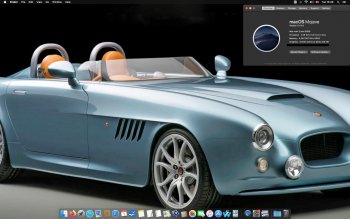 For all those who may have already written off some of the later Intel Core2Duo cpu's as well past their prime, I'll just simply say - "Think again!" This MacMini3,1 in it's current configuration and with the facelift as shown below is a young wolf in an old sheep's clothing.
Great shame that the larger profile Core i5 Mini's can't be shoe-horned inside a similar casing. Stripped down to individual components it may work, but imho would be 'messy'.