macrumors newbie
Original poster
Hi guys
First time poster here but long term admirer of the site.
I was wondering if anybody could please lend me their help in figuring out why my Macbook is crashing. I updated from Mavericks to Sierra not long ago and that is when the problems seemed to start. Often when I am powering up my Mac it won't start and I see this screen and have to restart straight after: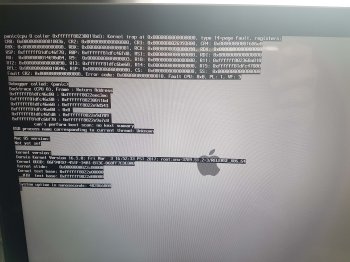 I have ignored it so far as it hasn't been a huge issue but yesterday I was transferring files to my external hard drive and the Mac crashed after the transfer had completed. The Macbook wouldn't read the hard drive after that and I had to restore it on Windows. Just now it crashed and restarted again randomly.
Would anybody please be able to point to if there is an app that I need to remove or something that I can do to prevent this. This has only been happening after I upgraded to Sierra and it seems to be occurring more frequently. I am on a Mid 2012 13-inch Macbook running 10.12.4. Any help would be extremely appreciated as these incidents are now starting to cause a lot of problems for me.
I have copied the crash report text if anyone is able to point me in the right direction.
Thank you very much in advance for reading my thread and I appreciate any help or suggestions.
Anonymous UUID: A96C5B68-C609-4256-CC5D-B10C9F49F6C0
Thu Aug 3 21:10:37 2017
*** Panic Report ***
panic(cpu 2 caller 0xffffff802f6011bd): Kernel trap at 0xffffff7fb0607eb4, type 14=page fault, registers:
CR0: 0x000000008001003b, CR2: 0xffffff821659700c, CR3: 0x0000000032f93000, CR4: 0x00000000001626e0
RAX: 0xffffff806b4bd9c0, RBX: 0x000000000000000a, RCX: 0x0000000000000100, RDX: 0xffffff8216596f00
RSP: 0xffffff9219223990, RBP: 0xffffff9219223a00, RSI: 0x000000000000fc00, RDI: 0xffffff806bea8900
R8: 0xffffff8216596f00, R9: 0xffffff802fc671b0, R10: 0xffffff802fd21b48, R11: 0x0000000002000001
R12: 0x000000000000001b, R13: 0x0000000000000000, R14: 0x00000000e00002eb, R15: 0xffffff806a999e00
RFL: 0x0000000000010006, RIP: 0xffffff7fb0607eb4, CS: 0x0000000000000008, SS: 0x0000000000000010
Fault CR2: 0xffffff821659700c, Error code: 0x0000000000000000, Fault CPU: 0x2, PL: 1, VF: 5
Backtrace (CPU 2), Frame : Return Address
0xffffff9219223620 : 0xffffff802f4ec3ec
0xffffff92192236a0 : 0xffffff802f6011bd
0xffffff9219223880 : 0xffffff802f49d543
0xffffff92192238a0 : 0xffffff7fb0607eb4
0xffffff9219223a00 : 0xffffff7fb0605964
0xffffff9219223a60 : 0xffffff7fb05fdcd7
0xffffff9219223b10 : 0xffffff7fb06044a0
0xffffff9219223b70 : 0xffffff7fb05fb3cd
0xffffff9219223bb0 : 0xffffff802fabe2aa
0xffffff9219223c20 : 0xffffff7fb02bbb04
0xffffff9219223cb0 : 0xffffff7fb02e090f
0xffffff9219223d00 : 0xffffff802fabe2aa
0xffffff9219223d70 : 0xffffff7fb02df531
0xffffff9219223da0 : 0xffffff7fb1c4b334
0xffffff9219223dd0 : 0xffffff7fb1c49768
0xffffff9219223e00 : 0xffffff7fb1c2bd04
0xffffff9219223e40 : 0xffffff7fb084518e
0xffffff9219223e60 : 0xffffff7fb0841da9
0xffffff9219223e90 : 0xffffff802fac1f10
0xffffff9219223f00 : 0xffffff802f52504a
0xffffff9219223fb0 : 0xffffff802f49a8f7
Kernel Extensions in backtrace:
com.apple.iokit.IOUSBHostFamily(1.1)[96FD82D0-CFF5-3EDE-971A-456CB10DBEBF]@0xffffff7fb02af000->0xffffff7fb0317fff
dependency: com.apple.driver.AppleBusPowerController(1.0)[DB526B45-1A45-3A81-A0C1-57F826CADEDF]@0xffffff7fb02a2000
com.apple.driver.usb.AppleUSBXHCI(1.1)[A3AEBA01-C5CC-3478-960E-620C58FDD6F7]@0xffffff7fb05f0000->0xffffff7fb0630fff
dependency: com.apple.iokit.IOACPIFamily(1.4)[4F7FB6AD-2498-3F71-827C-ED7AA4BF2511]@0xffffff7fb00d7000
dependency: com.apple.iokit.IOUSBHostFamily(1.1)[96FD82D0-CFF5-3EDE-971A-456CB10DBEBF]@0xffffff7fb02af000
com.apple.iokit.IOAudioFamily(205.15)[62BD3696-A3B8-3938-B01D-8F6CE2AFD1D5]@0xffffff7fb083c000->0xffffff7fb087afff
dependency: com.apple.vecLib.kext(1.2.0)[C0ABF85C-CA30-3F02-9E1E-06F3BA5047A8]@0xffffff7fb07a7000
com.apple.driver.AppleUSBAudio(308.6)[AB271F51-E110-34B8-91E1-3FC84240B3BD]@0xffffff7fb1c10000->0xffffff7fb1c68fff
dependency: com.apple.driver.AppleUSBHostMergeProperties(1.1)[A34E051F-4159-3DD3-AF90-4A21331C8F1E]@0xffffff7fb073e000
dependency: com.apple.iokit.IOPCIFamily(2.9)[C6E3195E-A0D7-3B71-B5F4-9EE9E182D4FC]@0xffffff7fafd52000
dependency: com.apple.iokit.IOAudioFamily(205.15)[62BD3696-A3B8-3938-B01D-8F6CE2AFD1D5]@0xffffff7fb083c000
dependency: com.apple.iokit.IOUSBHostFamily(1.1)[96FD82D0-CFF5-3EDE-971A-456CB10DBEBF]@0xffffff7fb02af000
BSD process name corresponding to current thread: kernel_task
Mac OS version:
16E195
Kernel version:
Darwin Kernel Version 16.5.0: Fri Mar 3 16:52:33 PST 2017; root:xnu-3789.51.2~3/RELEASE_X86_64
Kernel UUID: 06F94FD7-451F-34A1-B13C-D68FF7EDE0A0
Kernel slide: 0x000000002f200000
Kernel text base: 0xffffff802f400000
__HIB text base: 0xffffff802f300000
System model name: MacBookPro9,2 (Mac-6F01561E16C75D06)
System uptime in nanoseconds: 126894275908069
last loaded kext at 30670407079634: com.apple.nke.l2tp 1.9 (addr 0xffffff7fb27e3000, size 32768)
last unloaded kext at 449187047119: com.apple.driver.AppleUSBMergeNub 900.4.1 (addr 0xffffff7fb0786000, size 12288)
loaded kexts:
com.paceap.kext.pacesupport.snowleopard 5.9.1
com.displaylink.driver.DisplayLinkDriver 3.0.0 (79478)
at.obdev.nke.LittleSnitch 4728
com.apple.nke.l2tp 1.9
com.apple.filesystems.smbfs 3.1.2
com.apple.driver.AppleBluetoothMultitouch 92
com.apple.driver.AudioAUUC 1.70
com.apple.driver.AGPM 110.23.17
com.apple.driver.X86PlatformShim 1.0.0
com.apple.filesystems.autofs 3.0
com.apple.driver.AppleMikeyHIDDriver 131
com.apple.driver.AppleGraphicsDevicePolicy 3.14.41
com.apple.driver.AppleUpstreamUserClient 3.6.4
com.apple.driver.pmtelemetry 1
com.apple.driver.AppleHDA 279.48
com.apple.iokit.IOUserEthernet 1.0.1
com.apple.iokit.IOBluetoothSerialManager 5.0.4f18
com.apple.driver.AppleMikeyDriver 279.48
com.apple.Dont_Steal_Mac_OS_X 7.0.0
com.apple.driver.AppleHV 1
com.apple.driver.AppleIntelHD4000Graphics 10.2.4
com.apple.driver.AppleThunderboltIP 3.0.8
com.apple.driver.AppleSMCPDRC 1.0.0
com.apple.driver.AppleOSXWatchdog 1
com.apple.driver.AppleIntelSlowAdaptiveClocking 4.0.0
com.apple.driver.SMCMotionSensor 3.0.4d1
com.apple.driver.AppleSMCLMU 208
com.apple.driver.AppleIntelFramebufferCapri 10.2.4
com.apple.driver.AppleLPC 3.1
com.apple.driver.AppleBacklight 170.9.14
com.apple.driver.AppleMCCSControl 1.3.1
com.apple.driver.AppleUSBTCButtons 252
com.apple.driver.AppleUSBTCKeyboard 252
com.apple.driver.AppleIRController 341.2
com.apple.AppleFSCompression.AppleFSCompressionTypeDataless 1.0.0d1
com.apple.AppleFSCompression.AppleFSCompressionTypeZlib 1.0.0
com.apple.BootCache 40
com.apple.filesystems.hfs.kext 366.50.19
com.apple.iokit.IOAHCIBlockStorage 295.20.1
com.apple.driver.AirPort.Brcm4360 1150.9.1a2
com.apple.driver.AppleFWOHCI 5.5.5
com.apple.driver.AppleSDXC 1.7.6
com.apple.iokit.AppleBCM5701Ethernet 10.2.9
com.apple.driver.AppleAHCIPort 326
com.apple.driver.AppleSmartBatteryManager 161.0.0
com.apple.driver.AppleACPIButtons 5.0
com.apple.driver.AppleRTC 2.0
com.apple.driver.AppleHPET 1.8
com.apple.driver.AppleSMBIOS 2.1
com.apple.driver.AppleACPIEC 5.0
com.apple.driver.AppleAPIC 1.7
com.apple.driver.AppleIntelCPUPowerManagementClient 219.0.0
com.apple.nke.applicationfirewall 172
com.apple.security.quarantine 3
com.apple.security.TMSafetyNet 8
com.apple.driver.AppleIntelCPUPowerManagement 219.0.0
com.apple.nke.ppp 1.9
com.apple.driver.AppleBluetoothHIDKeyboard 199
com.apple.driver.AppleHIDKeyboard 199
com.apple.driver.IOBluetoothHIDDriver 5.0.4f18
com.apple.driver.AppleMultitouchDriver 368.14
com.apple.driver.AppleInputDeviceSupport 76.6
com.apple.kext.triggers 1.0
com.apple.driver.DspFuncLib 279.48
com.apple.kext.OSvKernDSPLib 525
com.apple.iokit.IOSerialFamily 11
com.apple.driver.AppleSSE 1.0
com.apple.iokit.IOSurface 159.6
com.apple.iokit.IOFireWireIP 2.2.7
com.apple.iokit.IOSlowAdaptiveClockingFamily 1.0.0
com.apple.driver.AppleSMBusPCI 1.0.14d1
com.apple.iokit.IOAcceleratorFamily2 311.11
com.apple.AppleGraphicsDeviceControl 3.14.41
com.apple.driver.AppleHDAController 279.48
com.apple.iokit.IOHDAFamily 279.48
com.apple.driver.X86PlatformPlugin 1.0.0
com.apple.driver.IOPlatformPluginFamily 6.0.0d8
com.apple.driver.AppleGraphicsControl 3.14.41
com.apple.driver.AppleBacklightExpert 1.1.0
com.apple.iokit.IONDRVSupport 514.10
com.apple.driver.AppleSMC 3.1.9
com.apple.driver.AppleSMBusController 1.0.18d1
com.apple.iokit.IOGraphicsFamily 514.10
com.apple.driver.AppleUSBAudio 308.6
com.apple.iokit.IOAudioFamily 205.15
com.apple.vecLib.kext 1.2.0
com.apple.iokit.IOSCSIArchitectureModelFamily 394.50.1
com.apple.iokit.BroadcomBluetoothHostControllerUSBTransport 5.0.4f18
com.apple.iokit.IOBluetoothHostControllerUSBTransport 5.0.4f18
com.apple.iokit.IOBluetoothHostControllerTransport 5.0.4f18
com.apple.iokit.IOBluetoothFamily 5.0.4f18
com.apple.driver.AppleUSBMultitouch 258
com.apple.driver.usb.IOUSBHostHIDDevice 1.1
com.apple.driver.usb.networking 5.0.0
com.apple.driver.usb.AppleUSBHostCompositeDevice 1.1
com.apple.driver.usb.AppleUSBHub 1.1
com.apple.driver.CoreStorage 540.30.1
com.apple.filesystems.hfs.encodings.kext 1
com.apple.driver.AppleThunderboltDPInAdapter 5.0.2
com.apple.driver.AppleThunderboltDPAdapterFamily 5.0.2
com.apple.driver.AppleThunderboltPCIDownAdapter 2.1.2
com.apple.driver.AppleThunderboltNHI 4.5.3
com.apple.iokit.IOThunderboltFamily 6.5.6
com.apple.iokit.IO80211Family 1200.12.2
com.apple.driver.corecapture 1.0.4
com.apple.iokit.IOFireWireFamily 4.6.6
com.apple.iokit.IOEthernetAVBController 1.0.3b4
com.apple.driver.mDNSOffloadUserClient 1.0.1b8
com.apple.iokit.IONetworkingFamily 3.2
com.apple.iokit.IOAHCIFamily 288
com.apple.driver.usb.AppleUSBEHCIPCI 1.1
com.apple.driver.usb.AppleUSBEHCI 1.1
com.apple.driver.usb.AppleUSBXHCIPCI 1.1
com.apple.driver.usb.AppleUSBXHCI 1.1
com.apple.driver.usb.AppleUSBHostPacketFilter 1.0
com.apple.iokit.IOUSBFamily 900.4.1
com.apple.driver.AppleUSBHostMergeProperties 1.1
com.apple.driver.AppleEFINVRAM 2.1
com.apple.driver.AppleEFIRuntime 2.0
com.apple.iokit.IOHIDFamily 2.0.0
com.apple.iokit.IOSMBusFamily 1.1
com.apple.security.sandbox 300.0
com.apple.kext.AppleMatch 1.0.0d1
com.apple.driver.AppleKeyStore 2
com.apple.driver.AppleMobileFileIntegrity 1.0.5
com.apple.driver.AppleCredentialManager 1.0
com.apple.driver.KernelRelayHost 1
com.apple.iokit.IOUSBHostFamily 1.1
com.apple.driver.AppleBusPowerController 1.0
com.apple.driver.DiskImages 444.50.16
com.apple.iokit.IOStorageFamily 2.1
com.apple.iokit.IOReportFamily 31
com.apple.driver.AppleFDEKeyStore 28.30
com.apple.driver.AppleACPIPlatform 5.0
com.apple.iokit.IOPCIFamily 2.9
com.apple.iokit.IOACPIFamily 1.4
com.apple.kec.Libm 1
com.apple.kec.pthread 1
com.apple.kec.corecrypto 1.0
Model: MacBookPro9,2, BootROM MBP91.00D3.B15, 2 processors, Intel Core i5, 2.5 GHz, 16 GB, SMC 2.2f44
Graphics: Intel HD Graphics 4000, Intel HD Graphics 4000, Built-In
Memory Module: BANK 0/DIMM0, 8 GB, DDR3, 1600 MHz, 0x859B, 0x435438473353313630424D2E4D3136464E00
Memory Module: BANK 1/DIMM0, 8 GB, DDR3, 1600 MHz, 0x859B, 0x435438473353313630424D2E4D3136464E00
AirPort: spairport_wireless_card_type_airport_extreme (0x14E4, 0xF5), Broadcom BCM43xx 1.0 (7.21.171.124.1a2)
Bluetooth: Version 5.0.4f18, 3 services, 27 devices, 1 incoming serial ports
Network Service: Wi-Fi, AirPort, en1
Serial ATA Device: WDC WD20NPVX-00EA4T0, 2 TB
Serial ATA Device: Crucial_CT240M500SSD1, 240.06 GB
USB Device: USB 2.0 Bus
USB Device: Hub
USB Device: FaceTime HD Camera (Built-in)
USB Device: USB 2.0 Bus
USB Device: Hub
USB Device: Hub
USB Device: Apple Internal Keyboard / Trackpad
USB Device: IR Receiver
USB Device: BRCM20702 Hub
USB Device: Bluetooth USB Host Controller
USB Device: USB 3.0 Bus
USB Device: USB3.0 Hub
USB Device: USB3.0 Hub
USB Device: USB3.0 Hub
USB Device: USB2.0 Hub
USB Device: USB2.0 Hub
USB Device: Scarlett 2i4 USB
USB Device: USB2.0 Hub
USB Device: LPK25
Thunderbolt Bus: MacBook Pro, Apple Inc., 25.1