macrumors 68040
Original poster
I've revisited
The Panther Thread
recently, and when I saw
Whiteout
as one of the listed "Top Apps", I wanted to see if it worked on Tiger, even if it was initially put together for Panther. (I didn't bother with Metalifizer.)
I later discovered the installer wouldn't comply with Tiger, but when I dug around the files (You have to go into "Show Package Contents" and then unzip an archive.), I found the source file the installer was working off of (It's a long string of folders eventually ending with a .rsrc file called "Extras" meant to be put into the depths of the "System" folder on the installed OS.). So by using the folder string as a guide of where to go, I tried manually moving the files from the Whiteout innards into my Tiger install...only to discover that I didn't have the required permissions, which even a folder permissions change via "Get Info" didn't solve. (Permissions were swiftly repaired following this action.)
So I then rebooted into Leopard, made a backup of the original Extras.rsrc included with Tiger, moved the Whiteout Extras.rsrc into its place, and rebooted back into Tiger. Lo and behold, a window theme for Panther functions wonderfully on Tiger, except for a bug on some applications where there's a heap of overlapped text clumped together on their window title bars. Not sure if that's because it wasn't meant for Tiger, or if it was always there.
Now, thanks to this little endeavor of mine, this is my present desktop. (Not quite sure why the designers felt the need to make the Apple menu icon gray.)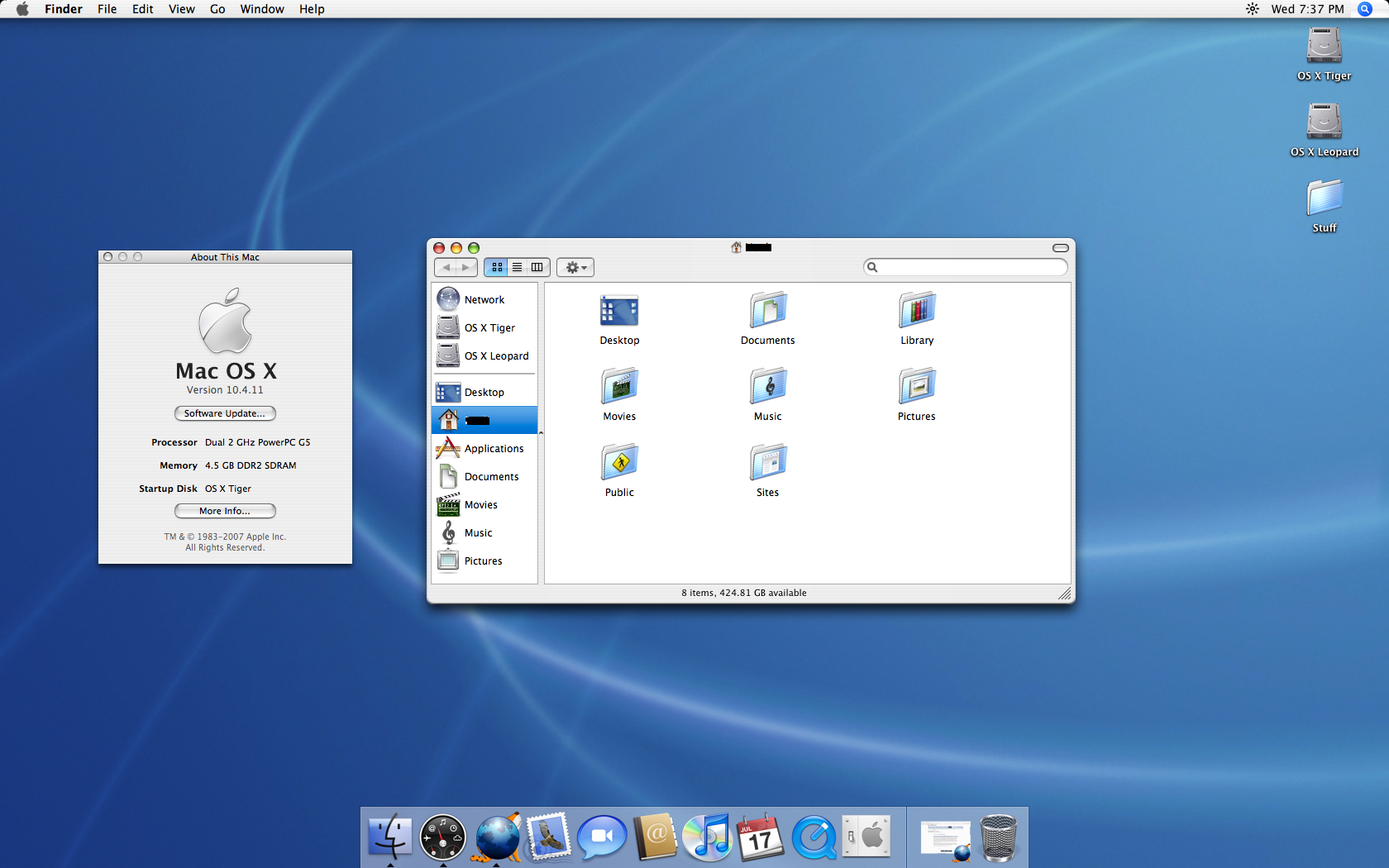 And here's the aforementioned bug on Apple Mail.


I also found a Firefox theme that makes TenFourFox look like a Jaguar application,
which I think sweetens the deal
.
And here's one for Tiger/Panther too.
Hell, here's one for Leopard as well.
(FYI, there are also others for OS X Yosemite, El Capitan, etc., which may pair well with something like LeopardRebirth.)
But it got me thinking. If you can theme the window system, perhaps the same will work with Extras.rsrc files pulled from prior OS X releases, like Panther or (actual) Jaguar. I have those two installed on one of my other Macs, so I'll see if I can take the Extras.rsrc file, and perhaps more, from each and give them a try on Tiger.
But I think it's a cool pursuit that may open up new possibilities, or perhaps an enhanced general knowledge, at least.
Last edited: