macrumors 6502
Original poster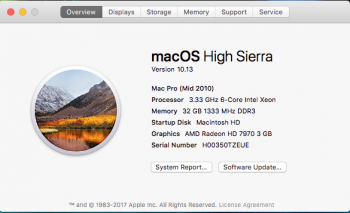 This my current, primary macOS rig. (lots of other Macs in the house...and I personally also use an early 2016 Macbook (HATE that keyboard!))
I know that I am on borrowed time with this system (the fact that High Sierra is supported was a BONUS!). I upgraded this to a 6-core Xeon CPU (from a 4-core). I had considered trying to get a dual-CPU tray...but at this point, that is probably throwing good money after bad... (also upgraded the vid card)
I hang two Dell U2415 monitors off of this. (I had used a 4k display...but it required too much monkeying around for reboots, upgrades, etc)
I have been pondering what I will, eventually, replace this with...and whether I should do so now or wait till the OS release comes out that is no longer supported (and/or there is no workaround to get it supported).
Love the expandability... SSD primary drive...mirrored RAID for data storage...large, internal time machine drive...
Anyone in a similar situation??