macrumors G3
Original poster
It's great to see so much buzz and excitement around the new iPad Mini 5. Most of us who already own a Mini agree that Apple "got it right" with this upgrade. And because the Mini 4 is still very capable, some are trying to be "responsible" and resist the call of the "5".
One way that I've found to ease that pull is to buy some accessories for my current devices to freshen up the ownership experience. Here are some of the things that I've bought to enhance my use of the Mini 4.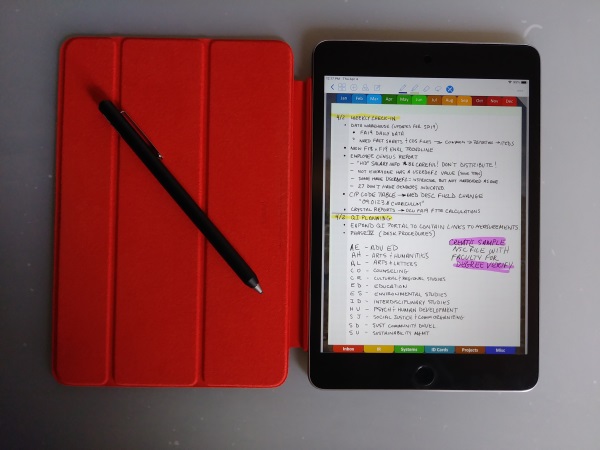 Here's my Mini 4 with a (PRODUCT) Red smartcover ($8 new, free shipping, ebay), iCarez matte screen protector, the Adonit Dash 3 powered capacitive stylus, and GoodNotes 4 using my Journal/Project Notebook.
Not pictured: Logitech Keys-to-Go (iOS) keyboard and folding aluminum stand.
For a cheaper option than Keys-to-Go, here's an alternative that I've used on other devices...
https://www.amazon.com/dp/B00GD1BGYO/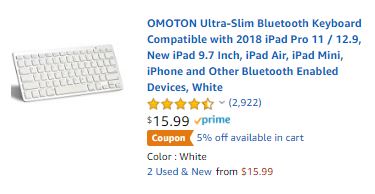 Here's the link to the Adonit Dash 3:
https://www.amazon.com/dp/B073YGD37Y/
Here's the iCarez matte screen protector: (applying it is easy and results in a perfect application... no dust, no bubbles)
https://www.amazon.com/dp/B0159Q78P4/
It's not always possible to get great deals on official Apple Smart Covers, but here is one that I bought (grey version though) before snagging a SC:
https://www.amazon.com/dp/B01AJP00QY/
And a folding stand... which folds flat for easy transport...
https://www.amazon.com/dp/B07GCR554D/
These are some of mine, what are your favorite accessories for your Mini 4?
Last edited: