macrumors regular
Original poster
I truly have never come across this in all the years I have been with Apple.
I finally decided to go from Mountain Lion to El Capitan, and yes I did do a backup.
The pictures I am showing illustrate that I have two monitors.
If you look closely at these two pictures, each monitor is at the very top of the picture.
Though you can't see it, each monitor has its own black apple in the left top corner.
Each monitor has it's own System Preference.
They are like Conjoined Twins and can both restart and shutdown.
On the picture that has the blue arrangement, nothing is stopping me from putting the blue arrangement on the opposite side.
Both have their own docks, but they never appear at the same time.
I can shut down on either side .
Only one monitor has the El Capitan HD, but I can move it from one monitor to the other monitor along with it's partitions.
To do this upgrade, I downloaded El Capitan, but I also have an unused OS X El Capitan in the Applications.
As I said before, I have NEVER had this happen to me: it's like eating with a fork in both hands.
I know I could use the backup of Mountain Lion and delete this mess, and try again. But how do I know it won't have the same problem?
How do I fix this mess???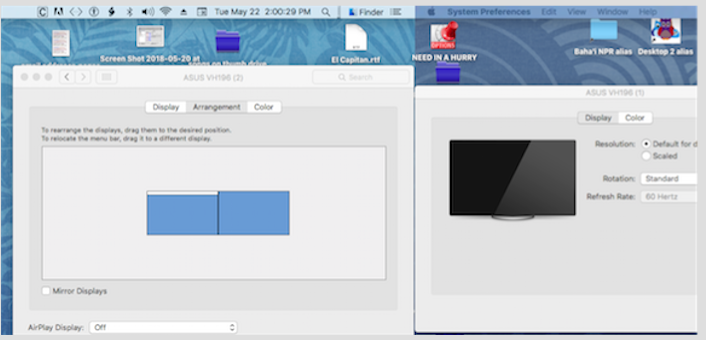 Last edited: