macrumors 65816
Original poster
I tried to convert The.Big.Bang.Theory.S07E20.720p.HDTV.X264-DIMENSION
I opened it with mp4tools and i only checked video and audio as below.... i just clicked convert and the procedure was over after some seconds when handbrake would need about 20 minutes for the same 500mb type of mkv.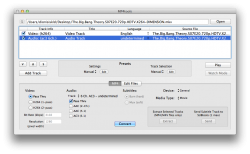 The file is playable on vlc but i cannot play it on itunes.... i can forward it but the video is frozen...
1) What did i do wrong with the settings (everything on default) i choose?
2) I also used H264 re-encode options and the result was the same...unplayable on itunes...
Last edited: