macrumors newbie
Original poster
Hi Everyone,
I'm a new MacBook user since some months,I bought one Unibody 17'' believing what everyone said about Macs being reliable,fast,totally superior to Windows PC.
Well,yeah,at first use I was amazed by my Mac and I really believed the above.This was until I really started working on it!
I'm a really heavy user that do many tasks from graphics to development and I handle many many programs at once.
Well let me say that Os X multi tasking really suck bad!
I can't work one day on it without it becoming a turtle at the end of the day due to the heavy swap it does on the slow HD.
I tried every possible solution and I hoped snow leopard solved this,but it didn't change anything.This is my situation now,I just rebooted 2 days ago: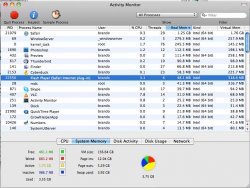 Let me say that my working routine has in fact changed since Windows,in worse!
While on Windows I could keep open Over 40 Tabs in a browser before plus Photoshop plus Illustrator plus Vmware,now I can barely use 20 tabs in a browser plus photoshop with the same amount of RAM.I can use all the above program only if I reboot,then they work fine for a while,but after some day of use it start swapping like crazy and I can only use half of them at the same time.
This is all due to the fantastic memory management not releasing the RAM.
Just look at the above picture and tell me why it's using the HD instead of the damn 1GB inactive RAM I have.
I searched everywhere and all I could find is "the OSX memory management is much smarter than you,it know what's right for you and always do the smart thing".
I came up with the following possibilities of the reason none ever complain :
1-Mac users are single task users.Open 1 or 2 apps at the same time.
2-Mac users have at least 8GB of RAM and medium multi tasker(no way you can do serious multitasking with this memory management with only 8GB).
3-Mac users reboot every day.
4-Mac users are mostly desktop users where everything is bigger and faster,from RAM to HD.I see way many people with 16-32GB of RAM and I suppose their HD are cutting edge too.
There is no way these would swap and even if they did it won't be noticeable as in my lousy 5400 rpm HD.
Sorry for the complain,but I'm really frustrated by having bought a notebook for 2500 eur that goes much slower than something I had 5 years ago.
And for your information I tried installing Windows 7 on this,and it was much better for multitasking,just like the old time,but I can't use it because Apple didn't bother to make some stable driver that doesn't crash randomly(no,it's not Win fault,just apple fault).