I recently got a "new" Apple iMac 21.5" 4k (3.0 i5/1TB/8GB) from a friend for a great price! It was only 4 months old but he needed to upgrade to the larger 27" iMac because of sight issues. My previous iMac back in 1999 was red, G3 333Mhz, 32MB of RAM, and 6 GB hard drive. Since then I have been using a mix of PCs, Macs, and lately, a 2017 MacBook Pro work laptop with a 256GB SSD.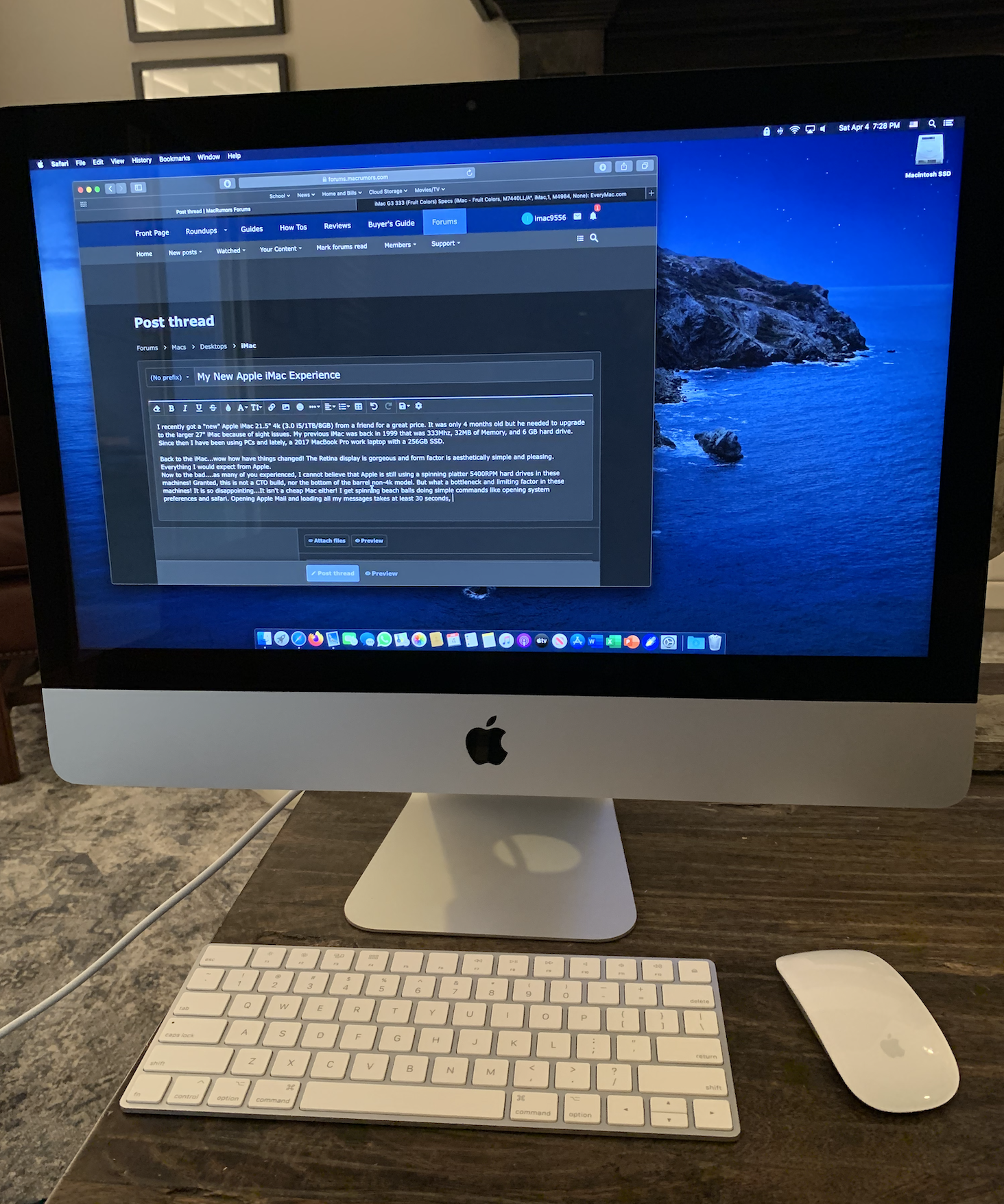 Back to the iMac...wow how have things changed! The Retina display is gorgeous and form factor is aesthetically simple and pleasing. Very fast now-see below. Everything I would expect from Apple.
Now to the bad....as many of you experienced, I
cannot
believe that Apple is still using a spinning platter 5400RPM hard drives in these machines! Granted, this is not a CTO build, nor the bottom of the barrel non-4k model. But what a bottleneck and limiting factor in these machines! It is so disappointing...It isn't a cheap Mac either! I get spinning beach balls doing simple commands like opening system preferences and safari. Opening Apple Mail and loading all my messages takes at least 30 seconds, don't get me started on opening Microsoft Word, Excel, or Powerpoint! It takes a good 50 seconds to one minute! I went to bed last night unhappy about my purchase....
At first I was thinking something is wrong with this machine and something is broken. After looking on these forums, it seems like everyone else has similar experiences. Options include 1) Returning the iMac (which isn't possible for me) 2) Tearing apart the iMac and installing a SSD (which I did not want to void the 3 year AppleCare warranty) 3) Getting a ThunderBolt 3 external drive (a little expensive) 4) Getting a USB-C NVMe type of external drive.
I chose option 4: I got the
Crucial X8 500GB USB-C Drive
for $79 from my local MicroCenter. I used some
3M Extreme Fasteners
(basically velcro on plastic steroids) to mount the drive on the upper stand between the iMac body and stand. It is very well hidden and you do not even notice it!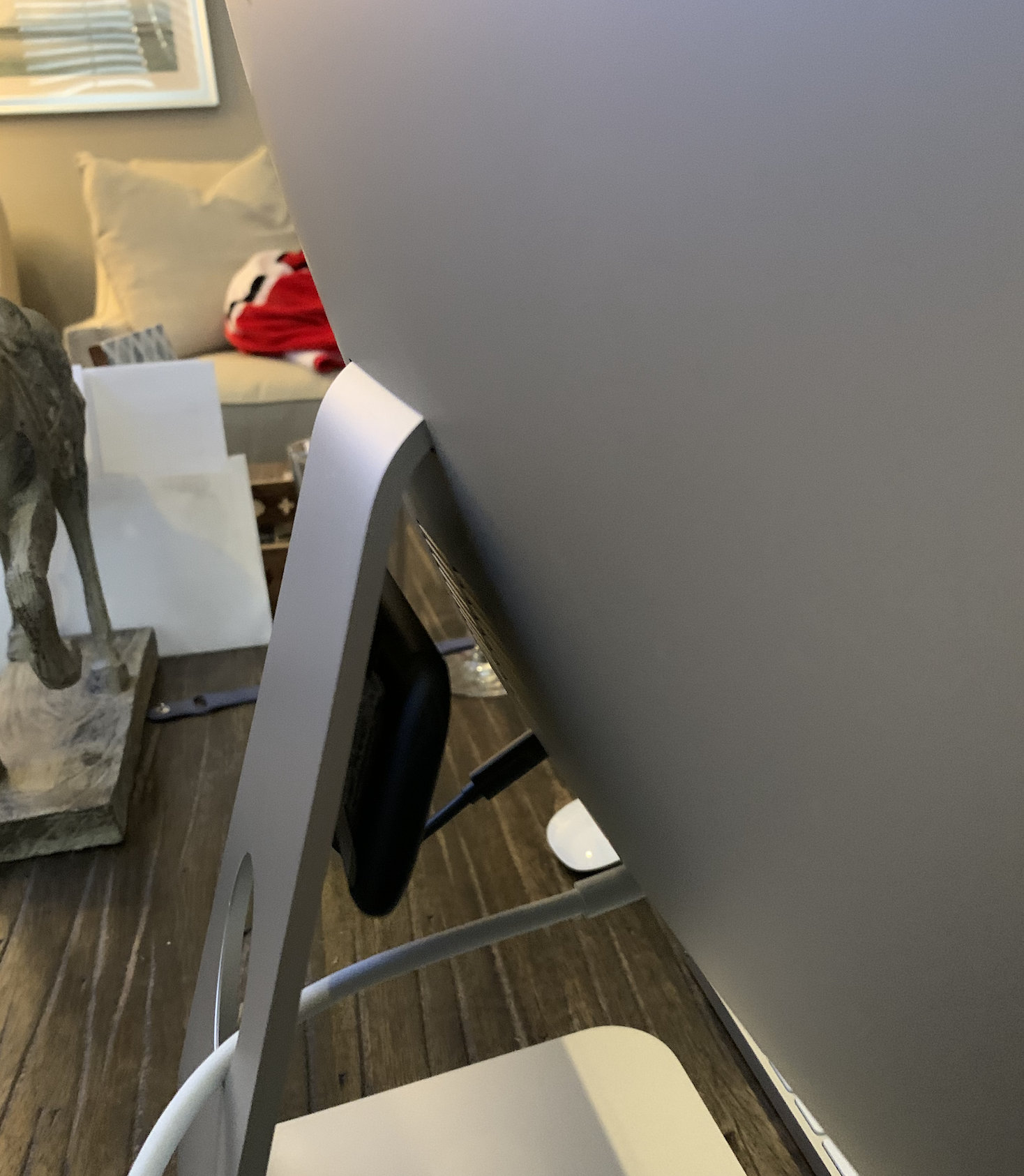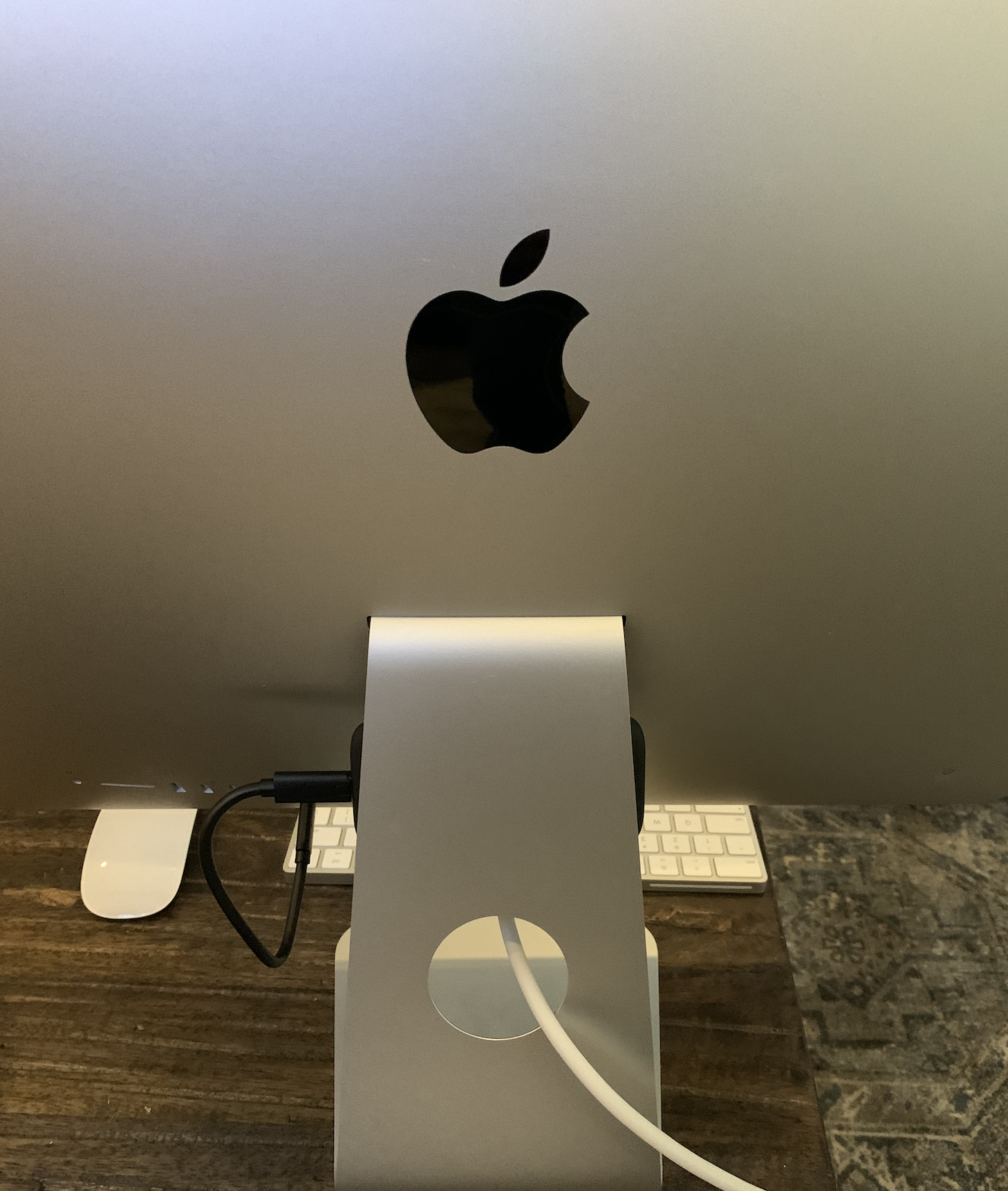 The difference is NIGHT and DAY. The iMac runs like new and how it should be. Applications and basic functions run as fast, if not faster than my work MacBook Pro. I did a fresh install of Mac OS Catalina to the external drive and started anew (again). So I have performed two fresh installs in the last 24 hours (haha).
I created an Automator Action to automatically unmount the internal hard drive upon startup.
I hope that Apple reads these forums and removes the old 5400rpm hard drive in their future iMac models. I just looked at their website and in 2021, they are still selling the refreshed iMac 4k with the same old 5400rpm hard drive! Unbelievable!!
Anyways thank you everyone for your suggestions and help. Once the warranty expires I plan to install an internal SSD and max out the memory. It looks like the guides online are very detailed for this to happen. I just have to buy new screen adhesives apparently to glue the iMac back together to the glass pane. I wonder how much faster an internal SSD would be compared to my solution. Maxing out the memory might help too. I even noticed that the processor is removable and possibly upgradable.
Any other suggestions and mods? I am all ears