macrumors 6502a
Original poster
I want to make my own external hard drive!
If you do not know what I mean, here is a picture: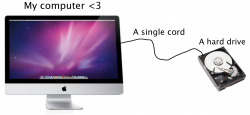 Obviously this will be very hard (but also fun) because I am very cheap and do not have the money to purchase a
very simple solution to my problem
.
So, I've salvaged two hard drives from some old hardware... a 2.5" 20 GB HDD from an Xbox 360...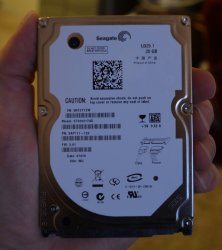 ...and a (significantly more hefty) 3.5" 60 GB HDD salvaged from an old no-longer-functioning eMac...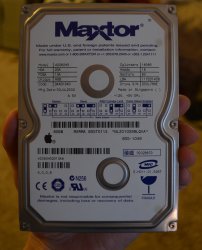 For clarity's sake, I will refer to these drives hereafter as the Xbox HDD, and the eMac HDD.
Given these things I have, I need to know the answers to a few things..
1) How do I turn these HDDs in to external HDDs? That is, do they need to be wiped, formatted, or whatever before they can be used, and how do I do that?
2) How do I connect either of these things to my computer for any purpose? A preferable connection to the computer would be USB 2.0 or whatever's most practical. The Xbox HDD appears to be equipped with "Serial ATA" ports for power and data, but the eMac HDD has ports I really can't identify but have pictured here:

3) How delicate do I have to be with these puppies? The tops of both HDDs are nice flat metal but the bottoms are covered in exposed micro chips and stuff... I guess I'm not supposed to touch those in case of static electricity, but do I need to otherwise store them in a really safe place? Or will these things be just fine chilling on my desk?
Answers to any and all questions are appreciated!
And I apologize in advance for the poor quality of any pictures OR if I'm posting this in the wrong forum.