macrumors 68000
Original poster
I was creating a "teaching" series in reply to a thread and noticed something wonky that I can't explain.
Took 3 images at the same exposure/camera settings but with different body/lens combinations. While the exposure was identical for all settings between the photos, the histograms weren't. They were all shot outside at nearly the same time, but the light did change slightly between photos. Possible I need to repeat this indoors under controlled light. But I was a little surprised by this.
Below are screenshots from LR5. The tint is off between the 3 examples since I was attempting to make the WB roughly equal. The histograms are roughly equal between the 3, but note the changes I had to make in the exposure slider to achieve this.
Nikon D3100 and 18-200 lens. -0.90 stop to achieve the same histogram as the second image.
Nikon D800 and 24-70 lens.
Leica M (240) and 50mm f/1.4 lens. -0.20 stop to achieve the same histogram as the second image.
I usually avoid "technical" posts like this. It's about the image and not pixel-peeping. But I found it weird that the D3100 and 18-200 lens produced such a radically different histogram compared to the other two (off by almost a full stop despite identical exposure settings).
The light didn't change by *that* much between shots. Here are the first and last photos without any exposure adjustment.
D3100 and 18-200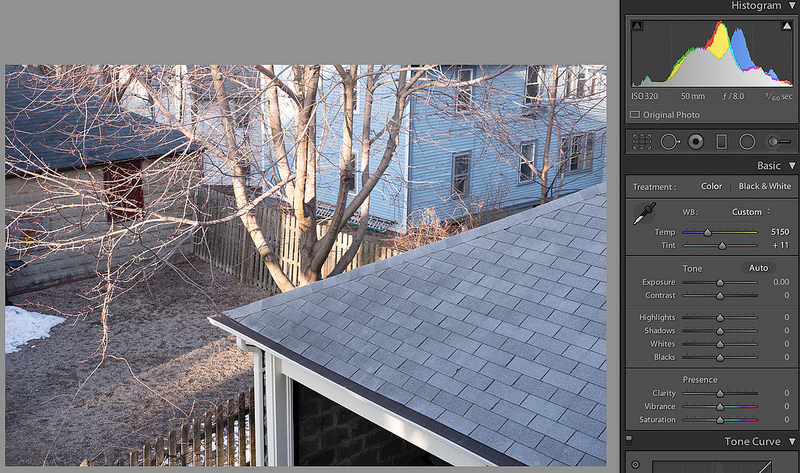 Leica M (240) and 50mm f/1.4.
For these latter two the light was almost the same (note the shadows on the fence, though there is a swath of brighter ground different between the two).
Am I missing something obvious? Does this reflect a difference in the quality of the lenses (my working assumption)? Body issue? Sensor issue? Something else?
Last edited: