macrumors member
Original poster
I recently upgraded my Mid 2013 Macbook Air to Sierra and I started having network/internet issues.
Here are my symptoms.
1. I'll open websites in Chrome/Safari and the page will delay it's load, sometimes I'll have to wait 60 seconds and then hit the refresh button.
2. If I'm streaming cams from a cam site. The streaming will stop on all the cams for roughly 60+ seconds then start up again. Usually I'll have to refresh the page to start streaming cams again.
3. In Youtube, videos stop playing
In most cases, in order to start the internet up again, I have to go into "Network Preferences" click on "Assist Me" then click "Diagnostics" and here is what I see. "Internet" and "Server" are yellow.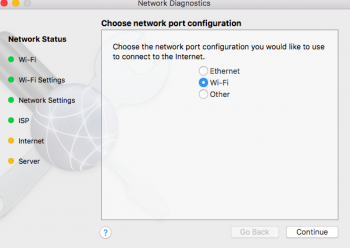 So then I click "Continue" and then I click "Continue" again to refresh the setting and "Internet" and "Server" change from yellow to red!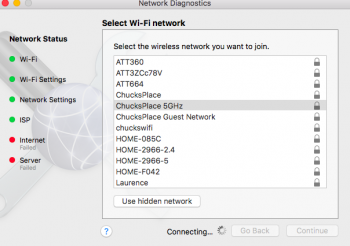 Within a minute or two all buttons turn green again. But this is very annoying!! I tried deleting some of the caching files for the network according to certain pages I googled, but it didn't seem to help.
Anyone else know what's going on or how to fix this? I didn't have this issue with the previous MacOSX install.